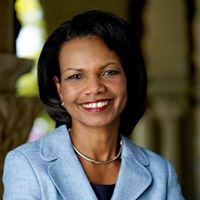 November 14, 1954 Condoleeza Rice, professor, diplomat and national security expert, was born in Birmingham, Alabama.
In 1974, at the age of 19, Rice earned her Bachelor's Degree in political science, Phi Beta Kappa, from the University of Denver. In 1975 she earned her master's degree from the University of Notre Dame and in 1981 she received her Ph.D. in political science from the Josef Korbel School of International Studies.
Rice served as a professor at Stanford University from 1981 to 1987 and from 1991 to 1992 before she was named Provost of the university, the first female, first minority and the youngest Provost in Stanford history. In December, 2000, Rice was named National Security Advisor in the administration of President George W. Bush and in January, 2005 she was named Secretary of State. In 2004 and 2005, she was ranked the most powerful woman in the world by Forbes Magazine and number two in 2006.
After her tenure as Secretary of State, Rice returned to Standford as a political science professor and the Thomas and Barbara Stephenson Senior Fellow on Public Policy at the Hoover Institution.  In 2010, she became a faculty member of the Standford Graduate School of Business and a director of its Global Center for Business and the Economy.  She published a family history, "Extraordinary, Ordinary People: A Memoir of Family."