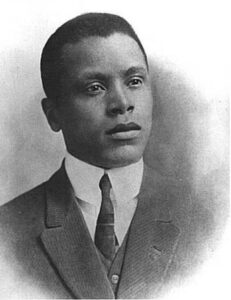 January 2, 1884 Oscar Devereaux Micheaux, author and film director, was born in Metropolis, Illinois. Micheaux formed his own movie company and in 1919 became the first African American to write, direct, and produce a motion picture, "The Homesteader." Between 1919 and 1948, Micheaux wrote seven novels and wrote, directed, and produced 44 feature films, including "Within Our Gates" (1919), which attacked the racism depicted in "The Birth of a Nation," and "Body and Soul" (1924), which introduced Paul Robeson.
Micheaux died March 25, 1951 and in 1986 the Directors Guild of America posthumously honored him with a Golden Jubilee Special Award. The Oscar Micheaux Award is presented annually by the Producers Guild of America. For his contribution to the motion picture industry, Micheaux has a star on the Hollywood Walk of Fame and in 1994 a documentary, "Midnight Ramble," was released about him.
In 2010, the United States Postal Service issued a commemorative postage stamp in his honor. Micheaux's biography, "Oscar Micheaux, The Great and Only: The Life of America's First Black Filmmaker," was published in 2007 and the Oscar Micheaux Center in Gregory, South Dakota annually presents the Oscar Micheaux Film & Book Festival.