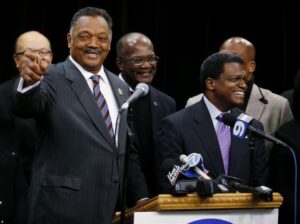 Syria Jan. 3 freed captured U.S. flier Navy Lt. Robert O. Goodman Jr. following a dramatic personal appeal by Rev. Jesse Jackson to Syrian President Hafez al-Assad.
The Syrian foreign ministry said Goodman's release was attributable to the "human appeal" of Jackson's mission and also to U.S. demands. President Reagan, who earlier had expressed concern over Jackson's mission to Syria, was quick to praise the Democratic presidential candidate for his success.
Before leaving the U.S., Jackson had received no guarantees from Syria that he would be permitted to meet with President Assad. He had originally planned to leave Syria Jan. 2, but said Jan. 1 that he was extending his visit by one day in order to meet with the president. Jackson said, "We would rather wait here in Syria with the possibility of getting Robert Goodman free than to be back home hoping that it would happen." Jackson added that expressions of opposition in the U.S. Congress to the continued presence of U.S. Marines in Lebanon could be helpful in his meeting with Assad.
Jackson and Assad met on the afternoon of Jan. 2 in a villa outside Damascus. After the meeting, Assad refused to disclose whether Goodman was to be released. Jackson declined to answer reporters' questions, stating, "We're in a very sensitive stage. . . . Our mission of mercy continues. It is not over."