James Armistead (James Lafayette)iot of the American Revolution
An African American slave in Virginia, Armistead sought and received permission from his master, William Armistead, to enlist under Gen. Marquis de Lafayette, a French officer who joined George Washington's army during the American Revolution. Lafayette was seeking men to spy on British general Cornwallis and his army at Yorktown, Va.  Impressed with Armistead's intelligence, Lafayette had Armistead pose as a laborer looking for work. He was hired at Cornwallis's camp and was able to relay information about Cornwallis's plans to Lafayette.   Armistead also earned the trust of Cornwallis, who asked him to spy on the Americans. As a double agent,   Armistead was able to move freely between both camps.   He provided Lafayette with critical information that enabled the general to intercept Cornwallis's much-needed naval support and ultimately defeat Cornwallis at Yorktown in Oct. 1781, the decisive battle that ended the Revolution.
After the war, Armistead returned to the Armistead plantation as a slave.   He met with Lafayette in 1784, when the general visited the United States.   He wrote a glowing recommendation for his former spy, which Armistead used when he petitioned the Virginia House of Delegates for freedom.   He was finally freed on New Year's Day 1787. He assumed Lafayette as his surname and spent the rest of his life as a farmer in Virginia.
Matthew Ashby (1727 – 1771)

Ashby was the son of a black man and Mary Ashby, a white woman who was an indentured servant.   He was born free because in Colonial times a child inherited his or her mother's social status.   But under Virginia law, he was also indentured until age 31 and was prohibited from meeting with slaves.   Ashby worked as a messenger for Virginia governor Norborne Berkeley and as a carpenter.   He acquired material goods, such as a silver watch, books, and candle-making equipment, that seemed out of reach of most black colonists.
He married Ann Ashby, a slave of a bricklayer, and purchased her and their two enslaved children, John and Mary, in 1769 for 150 pounds.   Although he owned them, Ashby had to petition the government to win their freedom. John and Mary attended Williamsburg's Bray School.
Benjamin Banneker (1731-1806)
Mathematician, Inventor
Born on November 9, 1731 near Elliott City, Maryland, Benjamin Banneker was one of America's greatest intellectuals and scientists. Benjamin Banneker was an essayist, inventor, mathematician, and astronomer.   Because of his dark skin and great intellect he was called the "sable genius," Benjamin Banneker was a self-taught mathematician and astronomer.   While still a youth he made a wooden clock which kept accurate time past the date that Banneker died.   This clock is believed to be the first clock wholly made in America.   In 1791, he served on a project to make a survey for the District of Columbia, helping to design the layout for our Nation's capital.   Deeply interested in natural phenomena, Banneker started publishing an almanac in 1791 and continued its publication until 1802.   He published a treatise on bees, did a mathematical study on the cycle of the seventeen-year locust, and became a pamphleteer for the anti-slavery movement.   He was internationally known for his accomplishments and became an advisor to President Thomas Jefferson. He died on his farm on October 9, 1806.
Vernon Baker (1919 – 2010)
U.S. Army soldier
When Vernon Baker was 4 years old, his parents were killed in an automobile accident and he and two older sisters went to live with his grandparents.   A mischievous 10-year-old, Baker went to Boys Town in Omaha, where he remained for three years.   After earning his high school diploma and dabbling in odd jobs, Vernon Baker joined the Army in 1941.   He then went to Officer Candidate School, was commissioned in early 1943 as a second lieutenant, and assigned to the 92nd Infantry Division, an all-black unit.  The division's soldiers were known as Buffalo Soldiers.   A decisive Allied victory in which Baker wiped out four German machine-gun nests on a hilltop in northern Italy and lost 17 of his men earned him the Distinguished Service Cross, the Army's second highest award for bravery.   He received the Medal of Honor in 1997, one of six awarded after an investigation revealed that the black soldiers had been unjustly overlooked for the military's highest honor.   Vernon Baker was the only living recipient. Baker, 90, died at home in St. Maries, Idaho, of complications from brain cancer.
 
Tyra Banks(1973)

Model
Best known as: Supermodel host of The Tyra Banks Show
Banks is a former model who created the popular TV reality show America's Next Top Model and hosted her own talk show, The Tyra Banks Show.   Banks was a top supermodel of the 1990s, when she became the first African-American model featured on the cover of the Sports Illustrated swimsuit issue.   Famously curvy even by supermodel standards, she was a regular on fashion magazine covers and in the Victoria's Secret catalog.   Banks also dabbled in acting, with appearances in the movies Higher Learning (1995, with Jennifer Connelly) and Coyote Ugly (2000, with Piper Perabo).   In the new century she shifted her focus to television. In 2003 she began producing and hosting the reality series America's Next Top Model.   The show was a hit and spawned spinoffs in Germany, Holland, and many other countries.  Banks also began hosting her own talk show, The Tyra Banks Show, in 2005.  Banks announced her retirement from modelling the same year, saying she would focus on her television career.  In 2009 she announced that The Tyra Banks Show would end its run after five seasons in March of 2010.
Daisy Lee Gatson Bates (1914 – 1999)
was an American civil rights activist, publisher, journalist, and lecturer who played a leading role in the Little Rock Integration Crisis of 1957.  She grew up in southern Arkansas in the small sawmill town of Huttig. She was raised by the closest friend of her father, who had left the family shortly after her mother's death. In The Death of my Mother, Bates recounted learning as a child that her birth mother had been murdered by three local white men. Learning of her mother's death and knowing that nothing was ever done about it fueled her anger.
Daisy's adoptive father Orlee Smith gave her some last advice while on his death bed.
He said, "You're filled with hatred. Hate can destroy you, Daisy. Don't hate white people just because they're white. If you hate, make it count for something. Hate the humiliations we are living under in the South. Hate the discrimination that eats away at the South. Hate the discrimination that eats away at the soul of every black man and woman. Hate the insults hurled at us by white scum—and then try to do something about it, or your hate won't spell a thing."
Bates said she had never forgotten that and it is from this memory that Bates claimed her strength for leadership came.
Daisy was 25 when she started dating Lucius Christopher Bates, an insurance salesman who had also worked on newspapers in the South and West. They dated for several months before moving to Little Rock (Pulaski County) in 1941; they were married on March 4, 1942.
In 1952, Daisy Bates was elected president of the Arkansas Conference of NAACP branches.
 DeMarcus Beasley ( 1982)
Soccer Player
Best known as: Left winger for PSV Eindhoven
DaMarcus Beasley is the American soccer player nicknamed "Jitterbug" for his quickness and elusive qualities with the ball. Like his fellow American phenom Landon Donovan, Beasley began playing internationally as a teen; he was named player of the tournament at the 1999 Under-17 World Cup in New Zealand. From 2000-2004 Beasley played for the Chicago Fire of Major League Soccer. In 2004 he moved to PSV Eindhoven in The Netherlands. Beasley played for the U.S. World Cup team in both 2002 and 2006. His World Cup biography from 2006 praised his "pace and industry down the wing."
Extra credit: Beasley is 81 days younger than Landon Donovan… Beasley was loaned to Manchester City for play in 2006, but in 2007 returned to PSV Eindhoven.
Harry Belafonte (born March 1, 1927)
is an American singer, songwriter, actor, and social activist. One of the most successful African-American pop stars in history, he was dubbed the "King of Calypso" for popularizing the Caribbean musical style with an international audience in the 1950s. His breakthrough album Calypso (1956) is the first million-selling LP by a single artist.  Belafonte is perhaps best known for singing "The Banana Boat Song", with its signature lyric "Day-O". He has recorded in many genres, including blues, folk, gospel, show tunes, and American standards. He has also starred in several films, most notably in Otto Preminger's hit musical Carmen Jones (1954), Island in the Sun (1957), and Robert Wise's Odds Against Tomorrow (1959).
Belafonte was an early supporter of the Civil Rights Movement in the 1950s and 1960s, and one of Martin Luther King, Jr.'s confidants. Throughout his career, he has been an advocate for political and humanitarian causes, such as the anti-apartheid movement and USA for Africa. Since 1987, he has been a UNICEF Goodwill Ambassador. In recent years, he has been a vocal critic of the policies of both the George W. Bush and Barack Obama presidential administrations. Harry Belafonte now acts as the American Civil Liberties Union celebrity ambassador for juvenile justice issues.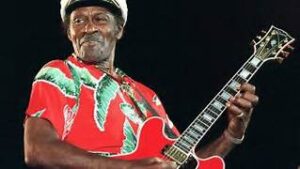 Berry, Chuck (Charles Edward Anderson Berry), 1926 – 2017,
American rock music guitarist, singer, and songwriter, b. San Jose, Calif. He was brought up in St. Louis, Mo., where he still lives. Berry is widely regarded as one of the leading pioneers of rock music, having blended the blues with country music and added a rhythm-and-blues beat, and he is thought by many to be the inventor of the rock music form. His distinctive playing of the electric guitar and his witty lyrics were a major inspiration for the English pop renaissance and for a wide variety of other rock musicians. A dynamic performer, he also became known for his signature crouching and gliding "duck walk." Berry produced a string of hits in the late 1950s, including "Maybellene," "Rock and Roll Music," "Roll Over Beethoven," and "Johnny B. Goode." In 1962 he was sentenced to two years in prison on the charge of transporting a minor across state lines for immoral purposes. His creative output subsequently dwindled and he cut his last record in 1981, butt he continued to be an active and popular performer into the 21st cent. Berry was inducted into the Rock and Roll Hall of Fame in 1986.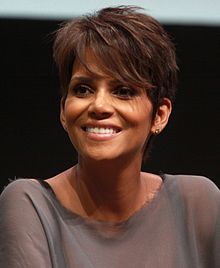 Halle Berry (1966)

actress, model
Oscar-winning actress who as a high school cheerleader and beauty queen was the first African American to represent the United States in the Miss World pageant in 1986. After a stint on Knot's Landing (1991–92), she moved on to films, starring in Spike Lee's Jungle Fever (1991) and Alex Haley's Queen (1993) before going opposite Kurt Russell in Executive Decision (1996) and Warren Beatty in Bulworth (1998). She has appeared in critically acclaimed roles (The Wedding, 1998) and critically panned roles (B*A*P*S, 1997). Berry won wide praise—and Emmy and Golden Globe awards—for her title role in the television biopic Introducing Dorothy Dandridge (1999). Her most notable films include Bullworth (1998), X-Men (2000) and sequels X2 (2003) and X-Men: The Last Stand (2006), the James Bond movie Die Another Day (2002), and Monster's Ball (2001), for which she won a Best Actress Oscar and a reputation as a talented, versatile actress.
Mary McLeod Bethune (1875- 1955)
Founder of Bethune-Cookman College
Born on July 10, 1875 in Mayesville, South Carolina, Mary McLeod Bethune ranks high among great women in America. The last of seventeen children of sharecroppers, Mary Bethune lifted herself from the cotton field to the White House as an advisor to the President of the United States. Her greatest accomplishment, however, was almost single-handedly building Bethune-Cookman College in 1923. With only one dollar and fifty cents, nerve and determination, she set out to build a school for the Blacks who were working in the railroad labor camps in Florida. Slowly the school emerged from old crate boxes and odd rooms of old houses near the Daytona Beach City Dump. Bethune served as the school's president until 1942. Today Bethune-Cookman graduates thousands. In 1935, she received the NAACP Springarn Medal as a symbol of distinguished achievement. Also in 1935, President Roosevelt appointed her national director of the National Youth Administration's Division of Negro Affairs. She died on May 18, 1955 in Daytona Beach, Florida.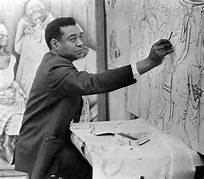 John Thomas Biggers (1924 –  2001)
was an African-American muralist who came to prominence after the Harlem Renaissance and toward the end of World War II.  Biggers has worked on creating works critical of racial and economic injustice. He served as the founding chairman of the art department at Houston's Texas State University for Negroes (now Texas Southern University).
Biggers was born in a shotgun house built by his father in Gastonia, North Carolina. His father Paul was a Baptist preacher, farmer, shoemaker, schoolteacher, and principal of a three-room school. His mother Cora was a housekeeper for white families. The youngest of seven, Biggers was reared in a close knit family that valued creativity and education. When Cora's husband died in 1937, she took a job in an orphanage for Black children, and John and his brother Joe were sent to Lincoln Academy, an American Missionary Association school in Kings Mountain, North Carolina.
After graduating from Lincoln, Biggers attended Hampton Institute (now Hampton University). Biggers planned to become a plumber (his Hampton application included boiler room drawings), but his life took a dramatic change of course when he took an art class with Viktor Lowenfeld, a Jewish refugee who in 1939 fled from Nazi persecution in Austria before World War II. Lowenfield exposed his students to works by African Americans and was concerned with altering his students' perceptions toward their African heritage by introducing them to the religious and social context of African art, of which the Hampton Museum had a significant collection.
When Viktor Lowenfeld left Hampton to teach art education at Pennsylvania State University, he persuaded Biggers to follow. In 1946,  Biggers enrolled at Pennsylvania State where he earned a bachelor's and master's degrees in art education in 1948.  In that same year, he married Hazel Hales. He earned a doctorate from Pennsylvania State in 1954.  He was awarded an honorary doctor of letters degree from Hampton University in 1990.
His works can be found at Hampton University in Hampton, Virginia, primarily in the campus library. The University Museum at Houston's Texas Southern University houses a collection of John T. Biggers's works.
In 1950, Biggers won first prize for his painting The Cradle at the annual exhibition at the Museum of Fine Arts in Houston. "Segregationist policies, however, allowed black visitors into the museum only on Thursdays, so he could not attend the show's opening."  From 1950 to 1956 Biggers painted four murals in African-American communities in Texas, the beginning of his work in murals.  He painted many public murals in Houston and elsewhere, including two in 1991 for Winston-Salem State University in North Carolina. Most are still in place.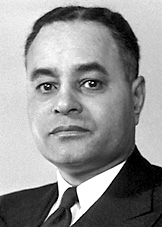 Ralph Bunche
As a diplomat who accomplished the seemingly impossible by negotiating the 1949 armistice between one-year-old Israel and its Arab neighbors, Ralph Bunche demonstrated that there is more than one way to resolve an issue. For that he earned the Nobel Prize for Peace in 1950. From early in his career, he was a militant critic of American society who established himself as one of the staunchest opponents of the gradualism and conciliation urged by the NAACP. Yet, in his celebrated work for the State Department and, later, the United Nations, as a statesman and diplomat, he proved himself to be a man without color, an international civil servant of the highest rank.. For an even-tempered diplomat, he was a driven man. Orphaned at the age of 11 in thee slums of Detroit, Bunche went to UCLA on an athletic scholarship and became the first African American to earn a Ph.D. from Harvard's government department, in 1934.. His research on the political status of African-Americans and the strategies off race-betterment organizations, used in Gunnar Myerdal's An American Dilemma (1944),, is an indispensable classic for any student of African-American history. From 1928 until 1942, Bunche taught political science at Howard University in Washington, DC, while traveling widely to expand his research on colonial administration and race relations. He later became the first African-American desk officer at the State Department, as head of the Division of Dependent Affairs, helping to draw up the UN Charter. He joined the UN in 1947 as director of the Trusteeship Division that helped establish guidelines for territories to achieve independence. After his Middle East triumph, he directed UN peacekeeping operations in the Suez (1956), the Congo (1960) and in Cyprus (1964). In 1968 Bunche became undersecretary general, the highest rank held by an American at the UN, and until his retirement in 1971 because of illness, was UN Secretary General U'Thant's most influential political advisor..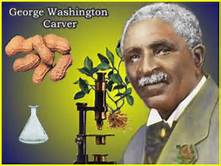 George Washington Carver (1860-1943)
Agricultural Scientist
If an honest history of the deep South is ever written, Dr. George Washington Carver will stand out as one of the truly great men of his time. Born of slave parents in 1860 in Diamond, Missouri, Dr. Carver almost single-handedly revolutionized southern agriculture. From his small laboratory on the campus of Tuskegee Institute flowed hundreds of discoveries and products from the once neglected peanut. From the peanut Dr. Carver discovered meal, instant and dry coffee, bleach, tar remover, wood filler, metal polish, paper, ink, shaving cream, rubbing oil, linoleum, synthetic rubber, and plastics. From the soybean he obtained flour, breakfast food, and milk. It is highly doubtful if any person has done as much for southern agriculture as Dr. Carver. Dr. Carver died in 1943 and was buried next to Booker T. Washington at Tuskegee Institute. On July 17, 1960 the George Washington Carver National Monument was dedicated at Dr. Carver's birth site. This was the first U.S. federal monument dedicated to a African-American.
Elizabeth Catlett (1915 – 2012)
was an African-American graphic artist and sculptor best known for her depictions of the African-American experience in the 20th century, which often had the female experience as their focus.  She was born and raised in Washington, D.C. to parents working in education, and was the grandchild of freed slaves.  It was difficult for a black woman in this time to pursue a career as a working artist. Catlett devoted much of her career to teaching.  However, a fellowship, awarded to her in 1946, allowed her to travel to Mexico City, where she would work with the Taller de Gráfica Popular for twenty years and become the head of the sculpture department for the Escuela Nacional de Artes Plásticas.  In the 1950s, her main means of artistic expression shifted from print to sculpture, though she would never give up the former.
Her work is a mixture of abstract and figurative in the Modernist tradition, with influence from African and Mexican art traditions. According to the artist, the main purpose of her work is to convey social messages rather than pure aesthetics.  While not very well known to the general public, her work is heavily studied by art students looking to depict race, gender and class issues.  During her lifetime, Catlett received many awards and recognitions including membership in the Salón de la Plástica Mexicana, the Art Institute of Chicago Legends and Legacy Award, honorary doctorates from Pace University and Carnegie Mellon and the International Sculpture Center's Lifetime Achievement Award in contemporary sculpture.
Mark Dean 
Inventor, Computer Programmer
Mark notice early on in life that he had inherited the success of his bloodline.  As a bright and energetic child, he often heard the concern his classmates and teachers had about his knowledge, they didn't realize a black child could be so smart.  Mark was a straight A student and an outstanding high school athlete. His success continued in college as he graduated at the top of his class with a Bachelor of Science in Electrical Engineering from the University of Tennessee in 1979.
In 1980, Dean was invited to join IBM as an engineer. Despite his new position, he continued his education and received a Master's Degree in Electrical Engineering from Florida Atlantic University in 1982. In his capacity as an engineer for IBM, he didn't take long to make a big impact, serving as the chief engineer for the team that developed the IBM PC/AT, the original home/office computer. Along with his colleague Dennis Moeller, he developed the Industry Standard Architecture (ISA) systems bus, a component that allowed multiple peripheral devices such as a modems and printers to be connected to a PC, thus making the PC a practical and affordable component of the home or small business office. Dean would own three of the original nine patents that all PCs are based upon. Dean followed up with PS/2 Models 70 or 80, and the Color Graphics Adapter (which allowed for color display on the PC).
Paul Laurence Dunbar
Poet, Author
Poet and author Paul Laurence Dunbar was so talented and versatile that he succeeded in two worlds. He was so adept at writing verse in Black dialect that he became known as the "poet of his people," while also cultivating a white audience that appreciated the brilliance and value of his work. Majors and Minors (1895), Dunbar's second collection of verse, financed by several white friends, was a remarkable work containing some of his best poems in both Black dialect and standard English. Melodic and rhythmical, his lines in this and other works often sing and swing along gloriously. When the country's reigning literary critic, William Dean Howells reviewed majors and Minors favorably, Dunbar became famous. And Howells',introduction in Lyric of Lowly Life (1896) helped make Dunbar the most popular African-American writer in America at the time.. Dunbar had plenty of experience bridging racial gaps. Despite being the only African-American in his class at Central high School in Dayton, Ohio, he was well liked by teachers and classmates and was elected president of the school literary society and editor of the school paper in his senior year.. Even though he reached a point when publications competed for anything (poems, short stories, novels, prose, sketches, plays and musical lyrics) that sprang from his fertile mind, Dunbar wrote for a living and had to please popular reading tastes for the light,, romantic, and sentimental. But he did publish a few pieces that spoke out gently against the typical treatment of his people, including "We Wear the Mask" and "The Haunted Oak," an anti-lynching poem.. Despite worsening health from the tuberculosis he succumbed to at age 34 in 1906,, Dunbar produced four collections of short stories and a quartet of novels in a creative outpouring between 1898 and 1904. His most notable short-story collections were Folks From Dixie and The Heart of Happy Hollow, and his novels included The Fanatics, a tale of political conflict involving two Civil War families, and The Sport of the Gods, about injustice suffered by an innocent African-American family.
Frederick Douglass (1817-1895)
Journalist, Activist, Ambassador
When Frederick A. Douglass was born in 1817 on a Maryland plantation, his given name was Frederick Augustus Washington Bailey. Frederick Douglass constantly fought against his slave condition and was constantly in trouble with the overseer. When he escaped on September 3, 1838, and he settled in New Bedford, Massachusetts, he changed his name to Frederick Douglass. In 1845, against the advice of his friends, Douglass decided to write an account of his life, fully aware of the possibility that this would mark him as the Bailey runaway slave. The autobiography was called The Narrative Of The Life and Times Of Frederick Douglass. Besides writing his autobiography, in 1845 Douglass founded and edited the North Star newspaper. When the Civil War broke out, Frederick Douglass urged President Lincoln to free and arm the slaves. He was also a great spokesman for universal suffrage, women's rights, and world peace. In 1848 Douglass participated in the first women's rights convention in Seneca Falls, New York. In 1872 he ran for vice president on the Equal Rights Party ticket. In 1889 he was appointed minister to Haiti. He died on February 20, 1895.

W.E.B. DuBois (1868-1963)
Author, Educator, Intellectual
No single title does credit to the prodigious talents of Dr. W.E.B. DuBois. Born on February 23, 1868 in Great Barrington, Massachusetts, he has been labeled an educator, author, historian, sociologist, philosopher, poet, leader and radical. In 1903 his famous book Souls of Black Folks was published. Perhaps his greatest fame came from his debate with Booker T. Washington over the type of education needed by African Americans. Washington stressed vocational education, whereas DuBois insisted on training in the liberal arts and in the humanities. He was one of the founders of the NAACP and editor of its famous journal The Crisis. He was also the first Black to receive a doctoral degree from Harvard University. In 1919 he initiated the Pan African Conferences in Paris. On behalf of the NAACP at the United Nations, he tried to get a firm anti-colonial commitment from the United States in 1945 and in 1947 presented a protest against the Jim Crow laws. His theme in his later years was always economic democracy and the channeling of Black Power through a unified Black society. He died on October 27,1963 in Accra, Ghana where he had established his new home.

John Hope Franklin, (1915 – 2009)
one of the nation's leading historians, is the only African American who has served as president of both the American Historical Association(AHA) and the Organization of American Historians (OAH).  He was born in Rentiesville, Oklahoma  in a Jim Crow society that stifled his senses and damaged his "emotional health and social well being." While his family was in Rentiesville, Buck Franklin not only survived the June 1921 Tulsa Race Riot, but also successfully sued the city. This suit, before the Oklahoma Supreme Court, overturned a Tulsa ordinance which prevented the city's blacks from rebuilding their destroyed community.
Franklin attended Fisk University in Nashville, Tennessee, graduating magna cum laude in 1935. He received his M.A. in history from Harvard in 1936, taught at Fisk University and returned to Harvard to complete the Ph.D. in history in 1941. While matriculating at Harvard, he took on a teaching position at St. Augustine's College, a predominately black college, in Raleigh, North Carolina. This position enabled him to complete his research for his dissertation which was published in 1943 as The Free Negro in North Carolina, 1790-1860. This book established his importance to southern history and he was subsequently invited, in 1949, to present a paper at the Southern Historical Association which broke the color line for that association. In 1956, Franklin became the first black person hired as chairman of a history department. That position at Brooklyn College led, in 1964, to an endowed chair at the University of Chicago in 1967 where he also served as department chair until 1970. Franklin remained on the University of Chicago until 1982 when he accepted the James B. Duke Professorship at Duke University.
John Hope Franklin's most important work was the 1947 publication of From Slavery to Freedom: A History of Negro Americans which has become the longest, continuously published survey text used in American history courses. Franklin has published a number of other books including The Militant South (1956); Reconstruction After the Civil War (1961); Color and Race (1968); A Southern Odyssey: Travelers in the Antebellum North (1975); and George Washington Williams: A Biography (1985).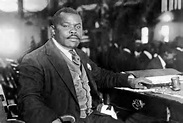 Marcus Garvey (1887-1940)
Leader and Philosopher
Among Black leaders Marcus Garvey was unique. Born August 17, 1887 in St. Ann's Bay, Jamaica, Marcus Mosiah Garvey's popularity was universal. His program for the return of African people to their motherland shook the foundations of three empires. All subsequent Black power movements have owed a debt to his example. In building his Universal Negro Improvement Association he sought "To improve the condition of the race with the view of establishing a nation in Africa where Blacks will be given the opportunity to develop by themselves." In his famous Philosophies and Opinions, Marcus Garvey wrote, "Where is the Black man's government? Where is his president, his country and his ambassadors, his army, his navy, his men of big affairs?" Founded in 1914, the UNIA grew in just five years to include to include over six million followers. He built newspapers, schools, churches, a shipping company, printing operations, food and clothing stores. In 1919, he launched the Black Star Shipping Lines. His program was one of Black self-determination and independence and set the theme for all Black development today. He died in London, England on June 10, 1940.
Elizabeth Taylor Greenfield (1824–1876),
dubbed "The Black Swan", was an African American singer considered the best-known black concert artist of her time. She was noted by James M. Trotter for her "remarkably sweet tones and wide vocal compass".
Greenfield was born a slave in Natchez, Mississippi, but was adopted by a Philadelphia Quaker as an infant. She studied music as a child although it was forbidden by the Quakers with whom she associated. At this point she began to sing at private parties. Her concert debut was in 1851 presented for the Buffalo Musical Association. From 1851–53 she toured as managed by Colonel J.H. Wood.
In 1853, she debuted at Metropolitan Hall in New York, which held an audience of four thousand, white patrons only. After the concert, Greenfield apologized to her own people for their exclusion from the performance and gave a concert to benefit the Home of Aged Colored Persons and the Colored Orphan Asylum.
In April 1853, she went to London under the patronage of the Duchess of Sutherland and Harriet Beecher Stowe. She was taught by Queen Victoria's Chapel Royal organist, George Smart. She performed a command performance for the queen at Buckingham Palace on May 10, 1854; she was the first black performer to perform before royalty.
Best known for her performances of the music of George Frideric Handel, Vincenzo Bellini, and Gaetano Donizetti, she also performed sentimental American songs such as Henry Bishop's 1852 setting of John Howard Payne's "Home! Sweet Home!" and Stephen Foster's "Old Folks at Home".
Fannie Lou Hamer (1917-1979)
Spirit of the Civil Rights Movement
Fannie Lou Hamer was born October 6, 1917 in the Mississippi Delta. Inspired by the fighting spirit of her mother, Fannie Lou Hamer became widely known as the "Spirit" of the Civil Rights movement. In the early 1960's a Black man or woman could lose their life trying to register to vote in some towns in Mississippi. But even at the risk of her life, Fannie Lou Hamer registered to vote. Because she encouraged others to do so, Fannie Lou Hamer was evicted from the farm where she lived and her husband was fired. Although neither her husband nor Fannie Lou could find work, they continued to organize people to register to vote. She helped found the Mississippi Freedom Democratic Party which went to the 1964 Democratic National Convention and challenged the all-white Mississippi delegation. Because of these efforts an integrated delegation was eventually seated in 1968. Fannie Lou Hamer also organized cooperatives to fight hunger and joblessness. The cooperative movement allowed Blacks to leave the plantations where they were sharecroppers and set up their own farms in a cooperative manner where they profited from the farms together.
Matthew Alexander Henson (1866-1955)
Arctic ExplorerMatthew Henson belongs to that hardy race of adventurers which from man's earliest history paved the way for civilization by adding to it knowledge that was hitherto unattainable. Henson's feat in reaching the North Pole holds a high place in the saga of these adventurers. He played a leading part in accomplishing what some of the finest and bravest men had been striving for more than 2,000 years. Henson was born of poor parents in Charles County, Maryland. As a lad, he showed the stuff of which he was made by shipping as a cabin boy on a ship bound for China. On the next voyage, however, he sailed as an able seaman, a grade usually reached only after four year's apprentice. At twenty-one he attracted the attention of Robert E. Peary, then a naval lieutenant, who engaged him as his personal attendant. In 1891, when Peary started on his polar explorations, Henson went with him and had his first taste of the ice. It was not however, until eighteen years later that the Pole was to be reached. At last, on April 6, 1909, the party made camp. All felt sure from the distance they had covered that they had reached the Pole. Peary completely worn out, went to sleep. Henson walked around outside to look things over. Later, when measurements were taken, it was discovered that Henson, during his walk had been the first mortal to walk on the top of the world. "As I stood at the top of the world," says Henson, and "thought of the hundreds of men who had lost their lives in the effort to reach it, I felt profoundly grateful that I, as the personal attendant of the commander, had the honor of representing my race in the historic achievement."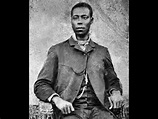 Thomas L. Jennings (1791–1856) was an African American tradesman and abolitionist. He was a free black who operated a dry-cleaning business in New York City, New York and was the first African American to be granted a patent. Jennings' skills along with a patent granted by the state of New York on March 3, 1821 for a dry cleaning process called "dry scouring" enabled him to build his business. He spent his early earnings on legal fees to purchase his family out of slavery, and supporting the abolitionist movement. In 1831, Jennings became assistant secretary to the First Annual Convention of the People of Color in Philadelphia, Pennsylvania, which met in June, 1831.
Jennings' patent resulted in a considerable amount of controversy. The U.S. patent laws of 1793 stated that "the master is the owner of the fruits of the labor of the slave both manual and intellectual," thus slaves could not patent their own inventions, the efforts would be the property of their master. Thomas Jennings was able to gain exclusive rights to his invention because of his status of being a free man. In 1861 patent rights were finally extended to slaves.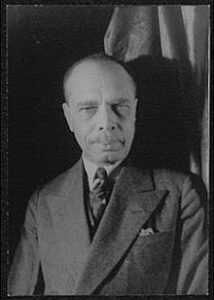 James Weldon Johnson
As a precursor, participant, and historian of the Harlem Renaissance, James Weldon Johnson had as much to do with the rise of that cultural movement as any one person.. Indeed, he was the epitome of the classic Renaissance man himself–poet, composer, author, government official, teacher, and influential civil rights activist.
Johnson's mother sparked his early interest in drawing, literature, and music. Consequently, Johnson, as lyricist, and his brother, Rosamond, as composer, wrote and staged musical comedies and light operas from 1901 to 1906, producing such enduring songs as "Since You Went Away" and "Lift Every Voice and Sing," now widely adopted as the African-American national anthem.. This remarkably versatile man crowned his contributions to society by becoming field secretary for the fledgling NAACP in 1916. As a social thinker, Johnson was an early advocate of Booker T. Washington's self-help philosophy. But he later supported thee NAACP's frontal attacks on segregation and discrimination, organizing the 1917 silent protest parade in New York City that condemned the massacre of African-Americans in east St. Louis, and fighting for passage of the 1921 Dyer Anti-Lynching bill, during 144 years of NAACP service.. After becoming the first African-American man to be admitted to the bar (in 1897) too practice law in Jacksonville, Florida, he moved to New York City to pursue a theatrical career. Campaigning for Teddy Roosevelt's successful presidential bid in 19044 earned Johnson an appointment as U.S. Consul to Venezuela (1906-8) and Nicaragua (1909-12). In 1913 he returned to New York and plunged into cultural life there by writing God's Trombones: Seven Negro Sermons in Verse and The Book of American Negro Poetry. Johnson was a literature instructor at Fisk University in Tennessee when he died in an automobile crash in 1938.
Dr. Percy Lavon Julian (1899-1975)
Scientist, Medical Researcher
Born in 1899 in Montgomery, Alabama, Dr. Percy Julian was one of the most famous Black scientists. Just as George Washington Carver demonstrated what could be done with the ordinary peanut, Dr. Julian took the soybean, which was until this time just another bean, and extracted from it an ingredient to relieve inflammatory arthritis. Until the late thirties Europe had a monopoly on the production of sterol, the basis of Dr. Julian's research. These sterol were extracted from the bile of animals at a cost of several hundreds of dollars a gram. Substituting sterol from the oil of soybean, Dr. Julian reduced the cost of sterol to less than twenty cents a gram, thus making cortisone, a sterol derivative, available to the needy at a reasonable cost. In 1954 he founded Julian Laboratory, Inc. With research centers in Chicago, Mexico City, and Guatemala, where he successfully developed synthetic cortisone. Before his death of liver cancer, Dr. Julian found a way to mass produce the drug physostigmine, used to treat glaucoma, and perfected the mass production of sex hormones which led the way to birth control pills. Dr. Julian died in 1975.

Jan Ernest Matzeliger (1852-1889)
Inventor
In at least one branch of industry, America owes its supremacy to an African American, Jan Ernest Matzeliger. A pioneer in the art of shoemaking, he enriched America and other nations by billions of dollars, made a dozen or more millionaires, created work for hundreds of thousands, and contributed enormously to what is regarded as one of the distinct features of civilization, namely, the wearing of shoes. With no other capital but his meager wages, he was forced to make use of such material as he could get hold of. He used mainly pieces of wood and old cigar and packing boxes. For six months he toiled strenuously until he had constructed a model which though crude, gave him confidence that he was on the road to success. Four years later he perfected a machine that would work. He was offered $1,500 for his invention of pleating the leather around the toe, which sum he refused. Greatly encouraged by the widespread interest his model created, he started to build a better one. With his new model it was easy for him to convince practical men that his invention would work successfully. A company was formed, consisting of himself, those who had advanced him money from time to time, and some others with large capital. With this new invention, the United Shoe Machinery Company rapidly drove competitors out of the shoe business until, a few years later, it controlled 98 percent of the shoe machine business. A tremendous expansion in the shoe industry followed. Shoe stocks proved a gold mine for investors. Earnings increased more than 350 percent and the price of footwear decreased. Matzeliger died in obscurity in 1889.

Jesse Owens
World record-holder Jesse Owens had one qualifying jump left at the 1936 Olympic Games in Berlin. He had fouled on four of his first five tries. And he was angry because Nazi ruler Adolf Hitler, with his misguided notions of Aryan supremacy, had just delivered an insult by departing from the stadium as Owens began his jumps. Suddenly, quietly, his chief rival, German long jumper Luz Long, said to Owens, "…remeasure your steps… take off six inches behind the foul board." Thus was an unlikely friendship born between an African-American and a German. And thus was Jesse Owens inspired to capture an unprecedented four Olympic gold medals with record performances in the long jump, the 100- and 200-meter dashes, and the 400-meter relay. Positive experiences such as the Olympic Games revelation by Luz, seemed to balance the racial-prejudice negatives in Jesse Owens' life as an African American, leading too his moderate ideology and his admiration of the principles and practices of Dr. Martin Luther King, Jr. Owens parlayed his international track-star reputation into jobs helping his people–such as national director of physical education for African-Americans with the Office of Civilian Defense (1940-42), which he called"the most gratifying work I've ever done."" But for all his desire to help others, Jesse Owens was largely a self-made man. A frail,, sickly child, he developed into a strong runner, winning national high school titles inn three events. Dozens of colleges pursued Owens, but he chose to go to Ohio State,, where he had to work his way through school. Owens stunned the nation in 1935 when he set three world records and equaled another in one day, running a 20.3-second 220-yard dash, 22.6 in the 220-yard low hurdles, a record-tying 9.4-second 100 yard dash, and long-jumping 26′-8-1/4… a mark that was not surpassed for 25 years.. And amid all his deserved adulation, Jesse Owens maintained his perspective. "Life,"" he said, "is the real Olympics."

Joseph Hayne Rainey (1870 – 1879)
He born into slavery, and was the first African American to serve in the U.S. House of Representatives, the first African American to preside over the House, and the longest-serving African American during the tumultuous Reconstruction period.  While his representation—like that of the other 21 black Representatives of the era—was symbolic, he also demonstrated the political nuance of a seasoned, substantive Representative, balancing his defense of southern blacks' civil rights by extending amnesty to the defeated Confederates.  "I tell you that the Negro will never rest until he gets his rights," he said on the House Floor. "We ask [for civil rights]because we know it is proper," he continued, "not because we want to deprive any other class of the rights and amenities they enjoy, but because they are granted to us by the law of the land."
Joseph Hayne Rainey's parents, Grace and Edward L. Rainey lived in Georgetown, South Carolina, a seaside town consisting mainly of rice plantations. The Raineys raised at least one other child, Edward, Jr. Grace Rainey was of French descent. Edward Rainey was a barber, and his master permitted him to work independently if he shared some of his profits, as required by law. Rainey used his earnings to buy his family's freedom in the early 1840s, and in 1846 the family moved to Charleston, South Carolina, where Edward became a barber at the exclusive Mills House Hotel. As giving official instruction to black children was illegal, Joseph Rainey received a limited education and his father taught him the barber's trade. By the 1850s, Edward Rainey could afford to buy two male slaves for his family.  In 1859, Joseph Rainey traveled to Philadelphia, where he met and married his wife, Susan, also a half-French mulatto, originally from the West Indies. Rainey continued to work as a barber, and the couple had three children: Joseph II, Herbert, and Olivia.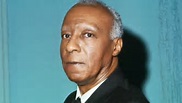 Philip Randolph
Raised in abolitionist traditions by his minister father,  mirrored those beliefs for more than 60 years as a champion of equal rights. He came to national prominence by organizing the Brotherhood of Sleeping Car Porters and achieved the first union contract signed by a white employer and an African American labor leader (in 1937). In 1941 he conceived a march on Washington, DC, to protest exclusion of African American workers from defense jobs. Faced with the public relations threat of 100,000 marchers, President Franklin Roosevelt established the wartime Fair Employment Practice Committee. Randolph founded the League for Nonviolent Civil Disobedience Against Military Segregation, which in 1948 pressured President Harry Truman into ending segregation in the armed forces. Although in later years he became less militant, Randolph was a dedicated socialist from his college days in New York. His lifelong belief in unionism and integration flowed from that philosophy, and he went into action in 1917 by co-founding The Messenger, a weekly magazine of African-American protest, and lecturing across the country. For his outspoken leadership, Randolph's opponents characterized him as "the most dangerous Negro in America" because of his proven power to create change. He was still the acknowledged patriarch into the early 1970s and into his 80s, after his key role in organizing the historic, 250,000 strong March on Washington in 1963.
Paul Robeson (1898-1976)
Athlete, Entertainer, Activist
Robeson was one of the most gifted men in the history of the world. He was an athlete, actor, author, attorney, a scholar and concert singer. Born in Princeton, New Jersey on April 9, 1898, Paul Robeson showed that he was a man of many talents. He gave 296 performances as Othello on Broadway. He was subsequently recognized as an internationally famous singer and performed on concert stages throughout the world. Robeson spoke and performed in over twenty languages and dialects, and became a spokesman throughout the world against exploitation, injustice, and racism. His attacks on injustice and racism in the United States became a severe international embarrassment to the United States government. In 1950, Robeson's passport was revoked by the U.S. State Department, and President Truman signed an executive order forbidding Mr. Robeson to leave the United States under penalty of five years in prison and a $500 fine. In 1958 Robeson left the United States for England and did not return until 1963. Throughout his lifetime he fought against all forms of racism and oppression perpetuated on Blacks in the United States. He died in Philadelphia, Pennsylvania on January 23, 1976.
Henry Y Sampson (1934), Jackson, Mississippi
Sampson graduated from Lanier High School in his hometown, 1951, and attended Morehouse College for two years, he transferred to Purdue University where he graduated with a Degree in Chemical Engineering.  As a research chemical engineer at the U.S. Naval Weapons Center, China Lake, California he trained in the area of high energy solid propellants and case bonding materials for solid rocket motors.  Sampson holds patents related to solid rocked motors and conversion of nuclear energy into electricity.
Dr. Sampson co-invented the Gamma-Electric cell which received the patent # 3,591,860 (abstract) on July 6, 1971, and lead to his Gamma – Electric cell device converts nuclear radiation from reactors or isotopes, directly into electricity without going through a heat cycle.
For many years Sampson was the Director of Mission Development and Operations, Space Test Program at the Aerospace Corporation in El Segundo, California, where a great deal of his pioneering work was developed. He has written papers in rocket propulsion, direct conversion of nuclear energy to electricity and computer simulation of electrical systems

Fred Shuttlesworth (1922 – 2011)

civil rights activist, minister
As pastor of Birmingham, Alabama's First Baptist Church, Shuttlesworth organized the Alabama Christian Movement for Human Rights in 1956. He served as president of the group until 1969 and spearheaded the movement to integrate Birmingham's schools, offices, and public facilities.
Shuttlesworth worked closely with Martin Luther King, Jr., establishing the Southern Christian Leadership Conference in 1958 and organizing the protests and actions in Birmingham during the spring of 1963. He was secretary of the SCLC from 1958 to 1970. He continues his campaign for racial and social justice as a minister in Cincinnati.

Robert Smalls (1839–1915)
was an enslaved African American who, during and after the American Civil War, became a ship's pilot, sea captain, and politician. He freed himself, his crew and their families from slavery on May 13, 1862, by commandeering a Confederate transport ship, the CSS Planter, in Charleston harbor, and sailing it to freedom beyond the Federal blockade.
He was born in Beaufort, South Carolina. After the American Civil War, he became a politician, elected to the South Carolina State legislature and the United States House of Representatives. His example and persuasion helped convince President Lincoln to accept African-American soldiers into the Union Army.
As a politician, Smalls authored state legislation providing for South Carolina to have the first free and compulsory public school system in the United States, and founded the Republican Party of South Carolina. He is notable as the last Republican to represent South Carolina's 5th congressional district until 2010. South Carolina passed a new constitution in 1895 that effectively disfranchised African-American citizens for more than half a century. After regaining the ability to vote in 1965 with the aid of national Democrats, African Americans in the state have generally voted for that party since the late twentieth century.

Bessie Smith (1894 –  1937) was an American blues singer.
Sometimes referred to as The Empress of the Blues, Smith was the most popular female blues singer of the 1920s and 1930s.  She is often regarded as one of the greatest singers of her era and, along with Louis Armstrong, a major influence on subsequent jazz vocalists.
Bessie Smith was the daughter of Laura (née Owens) and William Smith. William Smith was a laborer and part-time Baptist preacher (he was listed in the 1870 census as a "minister of the gospel", in Moulton, Lawrence, Alabama.)  He died before his daughter could remember him. By the time she was nine, she had lost her mother and a brother as well. Her older sister Viola took charge of caring for her siblings.
To earn money for their impoverished household, Bessie Smith and her brother Andrew began busking on the streets of Chattanooga as a duo: she singing and dancing, he accompanying her on guitar. Their favorite location was in front of the White Elephant Saloon at Thirteenth and Elm streets in the heart of the city's African-American community.
In 1904, her oldest brother, Clarence, covertly left home by joining a small traveling troupe owned by Moses Stokes.  "If Bessie had been old enough, she would have gone with him," said Clarence's widow, Maud.  "That's why he left without telling her, but Clarence told me she was ready, even then.  Of course, she was only a child."
Smith's recording career began in 1923.  She was then living in Philadelphia, where she met Jack Gee, a security guard, whom she married on June 7, 1923, just as her first record was being released. During the marriage Smith became the highest-paid black entertainer of the day, heading her own shows, which sometimes featured as many as 40 troupers, and touring in her own custom-built railroad car.  Their marriage was stormy with infidelity on both sides, including numerous female lovers for Bessie.  Gee was impressed by the money but never adjusted to show business life or to Smith's bisexuality.   In 1929, when she learned of his affair with another singer, Gertrude Saunders, Smith ended the relationship, although neither of them sought a divorce.
Mary Church Terrell (1863 – 1954) was one of the first African-American women to earn a college degree, and became known as a national activist for civil rights and suffrage; in 1909 she was a founding member of the National Association for the Advancement of Colored People. She taught and was a principal at an academic high school in Washington, DC; in 1896 she was the first African-American woman in the United States to be appointed to a school board of a major city, serving in the District of Columbia until 1906. Terrell led several important associations, including the National Association of Colored Women.
Mary Church's father, Robert Reed Church and mother Louisa Ayers, both former slaves of mixed race. Robert Church's mother was daughter of a Malagasy mother and white planter father; and his father was Captain Charles B. Church, a steamship owner and operator from Virginia. His father allowed Church to keep wages earned as a steward on his ship; the younger man bought his first property in Memphis in 1862. He continued to invest in real estate, especially after the city was depopulated following the 1878 yellow fever epidemic, and developed his wealth in real estate as the city recovered. Multiple sources refer to Church as the first black millionaire in the South, although it is now generally accepted that his wealth reached only $700,000.
Mary majored in Classics at Oberlin College, which accepted all races and genders, she was among mostly white male students. As a freshman she was nominated as class poet, and was elected to two of the college's literary societies. She also served as an editor of The Oberlin Review. When she earned her bachelor's degree in 1884, she was one of the first African-American women to do so. Church also earned a master's degree from Oberlin in 1888.

Sojourner Truth (1797-1883)
Orator, Women's Rights Activist
Born Isabella in 1797 in Ulster County, New York, she ran away from slavery in 1843 and changed her name to Sojourner Truth. At a time when oratory was fine art, Sojourner Truth, through her strong character and acid intelligence, was among the best and most famous anti-slavery speakers of her day. Her deep, bass voice, her fierce intelligence, sense of drama, and the utter sincerity of her speeches quickly spread her fame throughout the North and astounded the unbelieving South. Frequently, efforts were made to silence her. She was beaten and stoned, but nothing could stop her. Her speeches touched the hearts of many and led to the strengthening of the abolitionist movement in the United States. One of her most famous lines was delivered in response to a man who questioned her womanhood. Recounting the trials and tribulations that the slave woman suffered and speaking as a mother of children, Sojourner Truth asked, "Ain't I a woman!" In October, 1864 she addressed an audience with President Abraham Lincoln at the White House. She died on November 23, 1883 at her home in Battle Creek, Michigan.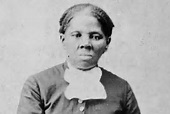 Harriett Tubman (1821-1913)
Leader of the "Underground Railroad"
Born in 1821 in Dorchester County, Maryland, one of eleven children, Harriett Tubman escaped from slavery in 1849 and joined the abolitionist movement. She became a conductor of the "underground railroad," and was frequently referred to as "Moses" of ancient times. The underground railroad was neither a railroad nor underground, but a system for helping slaves to escape. Strong, brave as a lion, cunning as a fox was Harriett Tubman, who made at least nineteen journeys into the deep South and led over three hundred slaves to freedom. Although she could not read or write, Harriett Tubman was one of the leading conductors of the underground railroad. During the Civil War, Harriet Tubman served both as a nurse and a spy for the Union Army. When she died on March 10, 1913 in Auburn, New York, Harriett Tubman was buried with full military honors.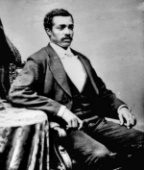 Josiah Thomas Walls
was Florida's first African-American representative to serve in Congress.  Walls was born a slave in Winchester, Virginia, in 1842. He was forced to join the Confederate army, but was released from this service after their capture at Yorktown by Union troops in 1862. The next year Walls joined the U.S. Colored Troops, where he rose to the rank of corporal. He was discharged in 1865 in Florida, where he stayed to become a teacher for the Freedmen's Bureau. In 1868 he was elected to be the Alachua County representative in the Florida Constitutional Convention, and in 1869 was one of five freedmen in the Florida senate.
In 1871 he was elected as the Florida representative to the 42nd Congress (1871-3), but the election was contested by his opponent, who was declared the winner in January of 1973. However, in November of 1872, Walls beat the same opponent for a seat in the 43rd Congress, and was assigned to the Committee on Expenditures in the Navy Department.
Walls was elected again in 1874 to the 44th Congress, and assigned to the Committee on Mileage, but once again his position was challenged by the losing opponent, and once again the opponent won. In the time he was in office, Walls worked towards improving Florida's physical and governmental infrastructure, and did his best to defend and strengthenFlorida's tourism and agriculture industries.  In 1876, Walls moved back to Florida, and months later won a seat in Florida's state senate. He remained in and out of politics until his death in 1905.
Ida B. Wells
Courageous and outspoken, Ida B. Wells has been equaled by few Americans in her fiery denunciation of discrimination, exploitation, and brutality. At a time when to do so was literally life-threatening, this committed crusader and journalist attacked social wrongs on all fronts, conducted anti-lynching campaigns,, investigated race riots and exposed the oppressive living conditions off African-Americans.. Orphaned at age 14, Wells first became a teacher. She lost her job and found her calling in Memphis when she became involved in a lawsuit after refusing to give up her seat in a railroad car designed for "whites only"–more than 60 years before Rosa Parks ignited the modern Civil Rights Movement with a similar gesture.. After purchasing an interest in the Free Speech, a Memphis weekly, Wells had her press and office demolished by a mob of angry whites, and when she published the details of the lynching of three African-American grocers by their white competitors. Fleeing to New York, she began anti-lynching lecture tours and published Southern Horrors and The Red Record, the first statistical study of lynching, which won her an international reputation.. In 1893, Wells attended the World Columbian Exposition in Chicago, where she joined Frederick Douglass and other leaders in condemning the Exposition for failing to honor the contributions of African-Americans. Settling in Chicago in 1895, she continued too contribute to newspapers and periodicals; founded a settlement house to assist migrant African-Americans in finding jobs and homes; helped organize the NAACP, and devoted much of her later years to promoting voting rights for women through marches and other lobbying activities. Usually determined to move faster and farther than her activist colleagues, Wells often found herself on the fringes of movements for equality for African-Americans and women. But she noted she simply had a vision of a society in which "human beings…. pay tribute to what they believe one possesses in the way of qualities of mind and heart,, rather than to the color of the skin."

Sonny Boy Williamson (John Lee Williamson, 1914 – 1948)
blues singer, harmonica player
One of the founding members of the post-War Chicago blues scene, Sonny Boy Williamson did more to popularize the harmonica than any of his contemporaries. His musical and geographical migration from the deep South up the Mississippi to Chicago exemplifies his rise in popularity. Williamson never realized his full potential as a musician, as he was tragically murdered at the peak of his career.
He taught himself to play harmonica as a teenager and by his late teens was touring the Depression-era South, playing with the likes of Big Joe Williams and Robert Nighthawk. With his masterful harp (harmonica) playing and country-blues sound, Williamson fused a new band format with the harmonica as lead instrument. With Sonny Boy leading on the harp and vocals, Big Joe Williams played a rough-sounding nine string lead guitar. Along with his exact, clear harp sound, Williamson was known for his unique vocals. Although he suffered from a speech impediment which caused his speech to slur, Sonny Boy adapted his singing style to accommodate his handicap. This gave Williamson's singing an alluring, bluesy feel, which was impossible to replicate.
In 1937 Williamson moved to Chicago, where he quickly established himself as an elite harp player, and his harmonica-led group format soon became the norm. It was not long before Williamson signed on with the Bluebird label, where he played and recorded with many blues greats, including Big Bill Broonzy, and wrote and recorded some of his greatest songs, such as "Hoodoo, Hoodoo," which was to be adapted later by another harp-master, Junior Wells, and "Good Morning Little School Girl," a blues classic that has been covered by many bands, such as The Yardbirds and The Grateful Dead.
Sonny Boy Williamson was murdered with an ice pick while returning home from a gig in the South Side of Chicago in 1948, during the height of his career. He was inducted into the Blues Foundation Hall of Fame in 1980. His albums include Sonny Boy Williamson, Volumes 1-5 and Throw a Boogie-Woogie (with Big Joe Williams).

Granville T. Woods (1856-1910)
Electrical Inventor
Born on April 23, 1856 in Columbus, Ohio, Granville Woods was the individual most responsible for modernizing the railroad. During his lifetime, Granville T. Woods earned over thirty-five patents ranging from a steam boiler furnace in 1884, an incubator in 1900, to the automatic airbrake in 1902. Many of his electrical inventions were sold to the American Bell Telephone Company and the General Electric Company. The Westinghouse Air-break Company eventually obtained his Air-break patent. His most noteworthy device in the area of electric railway travel was his induction telegraph, a system of communication for moving trains. Because of the many accidents and collisions which were occurring on the railways, Granville T. Woods invented his synchronous multiple railway telegraph for the purpose of averting accidents by keeping each train informed of the whereabouts of the one immediately ahead of it or following it, in communicating with stations from moving trains, and in promoting general social and commercial intercourse. The inventions of Granville T. Woods revolutionized the railway industry. He died on January 30, 1910 in Harlem Hospital, New York City.

Carter G. Woodson(1875-1950)
Founder of Black History Month
He was known as the father of "Black History," was born in New Canton, Virginia. Despite the pioneering efforts of many Black writers and scholars, the systematic treatment of Black history was not achieved until 1915 when Carter G. Woodson, an ex-coal miner and school teacher, organized the Association for the Study of Negro Life and History. Over the years, the still thriving association has published many important volumes in the field of Black history. In 1916, Dr. Woodson started The Journal of Negro History, a scholarly repository of research which is used by students of history throughout the world. He initiated the observance of Black History Week in 1926. Eleven years later the association began the publication of The Negro History Bulletin, a more popular vehicle for disseminating the findings for scholars and researchers. "Dr. Woodson firmly believed that the achievements of Blacks properly set forth will crown him as a factor in the early human progress and a maker of modern civilization." His life and work are eloquent testimonies to that belief. He died on April 13, 1950.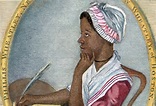 Phillis Wheatley (1753-1784)
World Famous Poet
Born in 1753 in Senegal, West Africa but sold into slavery at eight year old, Phillis Wheatley became the most famous female poet of the eighteenth century. At age thirteen years old and while still in slavery, Phillis Wheatley's poems were being circulated throughout England. In 1770 her first poem was published in London entitled Poems on Various Subjects Religious and Moral. In 1772, she was freed by her master, Mrs. S. Wheatley, and went to England. On both sides of the Atlantic her poems won widespread admiration. In 1776, she wrote a poem entitled "To His Excellency General Washington." After he read it, George Washington invited her to visit him at Cambridge. The abolitionists pointed to her skill as a poet as proof that Blacks were not inferior and should be freed. She died on December 5, 1784 in Boston, Massachusetts.

Whitney Moore Young
A civil rights leader who urged African Americans to work within the system, Whitney Moore Young, as executive director of the National Urban League from 1961 to 1971, played a leading role in persuading America's corporate elite to provide better opportunities for African Americans. Young worked with President Lyndon Johnson on civil rights and anti-poverty programs during the 1960s, while calling for a "domestic Marshall Plan" (similar to U.S. aid to revive Europe after World War II). He was one of the leaders of the 1963 March on Washington and in 1964 he organized the Community Action Assembly to fight poverty in African-American communities. He was awarded the Medal of Freedom, the nation's highest civilian honor, in 1969. Two years later at the age of 49, Young drowned in Lagos, Nigeria while participating in an annual African-American dialogue on relations between the two continents.