Barack Hussein Obama II (1961)
An American politician who served as the 44th President of the United States from 2009 to 2017. He is the first African American to have served as president, as well as the first born outside the contiguous United States. He previously served in the U.S. Senate representing Illinois from 2005 to 2008, and in the Illinois State Senate from 1997 to 2004.
Obama was born in Honolulu, Hawaii, two years after the territory was admitted to the Union as the 50th state. He grew up mostly in Hawaii, but also spent one year of his childhood in Washington State and four years in Indonesia. After graduating from Columbia University in 1983, he worked as a community organizer in Chicago. In 1988 Obama enrolled in Harvard Law School, where he was the first black president of the Harvard Law Review. After graduation, he became a civil rights attorney and professor, teaching constitutional law at the University of Chicago Law School from 1992 to 2004. Obama represented the 13th District for three terms in the Illinois Senate from 1997 to 2004, when he ran for the U.S. Senate. Obama received national attention in 2004, with his unexpected March primary win, his well-received July Democratic National Convention keynote address, and his landslide November election to the Senate. In 2008, Obama was nominated for president, a year after his campaign began, and after a close primary campaign against Hillary Clinton. He was elected over Republican John McCain, and was inaugurated on January 20, 2009. Nine months later, Obama was named the 2009 Nobel Peace Prize laureate.
During his first two years in office, Obama signed many landmark bills. Main reforms were the Patient Protection and Affordable Care Act (often referred to as "Obamacare"), the Dodd–Frank Wall Street Reform and Consumer Protection Act, and the Don't Ask, Don't Tell Repeal Act of 2010. The American Recovery and Reinvestment Act of 2009 and Tax Relief, Unemployment Insurance Reauthorization, and Job Creation Act of 2010 served as economic stimulus amidst the Great Recession, but the GOP regained control of the House of Representatives in 2011. After a lengthy debate over the national debt limit, Obama signed the Budget Control and the American Taxpayer Relief Acts. In foreign policy, Obama increased U.S. troop levels in Afghanistan, reduced nuclear weapons with the U.S.-Russian New START treaty, and ended military involvement in the Iraq War. He ordered military involvement in Libya in opposition to Muammar Gaddafi, and the military operation that resulted in the death of Osama bin Laden.
After winning re-election by defeating Republican nominee Mitt Romney, Obama was sworn in for a second term in 2013. During his second term, Obama promoted greater inclusiveness for LGBT Americans, with his administration filing briefs that urged the Supreme Court to strike down same-sex marriage bans as unconstitutional (United States v. Windsor and Obergefell v. Hodges). Obama also advocated gun control in response to the Sandy Hook Elementary School shooting, and issued wide-ranging executive actions concerning climate change and immigration. In foreign policy, Obama ordered military intervention in Iraq in response to gains made by ISIL after the 2011 withdrawal from Iraq, continued the process of ending U.S. combat operations in Afghanistan, promoted discussions that led to the 2015 Paris Agreement on global climate change, initiated the sanctions against Russia following the invasion in Ukraine, brokered a nuclear deal with Iran, and normalized U.S. relations with Cuba.
Obama left office in January 2017 with a 60% approval rating.  He currently resides in Washington, D.C. His presidential library will be built in Chicago.
Shirley Anita St. Hill Chisholm (1924 –  2005)
was an American politician, educator, and author In 1968, she became the first black woman elected to the United States Congress, and she represented New York's 12th Congressional District for seven terms from 1969 to 1983. In 1972, she became the first black candidate for a major party's nomination for President of the United States, and the first woman to run for the Democratic Party's presidential nomination.
Chisholm was a Democratic member of the New York State Assembly from 1965 to 1968, sitting in the 175th, 176th and 177th New York State Legislatures. Her successes in the legislature included getting unemployment benefits extended to domestic workers.  She also sponsored the introduction of a SEEK program (Search for Education, Elevation and Knowledge) to the state, which provided disadvantaged students the chance to enter college while receiving intensive remedial education.
In August 1968, she was elected as the Democratic National Committeewoman from New York State.  She ran for the U.S. House of Representatives from New York's 12th congressional district, which as part of a court-mandated reapportionment plan had been significantly redrawn to focus on Bedford-Stuyvesant and was thus expected to result in Brooklyn's first black member of Congress. (Adam Clayton Powell, Jr. had, in 1945, become the first black member of Congress from New York City as a whole.) As a result of the redrawing, the white incumbent in the former 12th, Representative Edna F. Kelly, sought re-election in a different district.  Chisholm announced her candidacy around January 1968 and established some early organizational support.  Her campaign slogan was "Unbought and unbossed".  In the June 18, 1968, Democratic primary, Chisholm defeated two other black opponents, State Senator William S. Thompson and labor official Dollie Robertson.  In the general election, she staged an upset victory over James L. Farmer, Jr., the former director of the Congress of Racial Equality who was running as a Liberal Party candidate with Republican support, winning by an approximately two-to-one margin.  Chisholm thereby became the first black woman elected to Congress.
Chisholm began exploring her candidacy in July 1971, and formally announced her presidential bid on January 25, 1972, in a Baptist church in her district in Brooklyn.  There she called for a "bloodless revolution" at the forthcoming Democratic nomination convention.  Chisholm became the first black major-party candidate to run for President of the United States, in the 1972 U.S. presidential election, making her also the first woman ever to run for the Democratic Party's presidential nomination (U.S. Senator Margaret Chase Smith had previously run for the Republican presidential nomination in 1964).
In 2015, Chisholm was posthumously awarded the Presidential Medal of Freedom.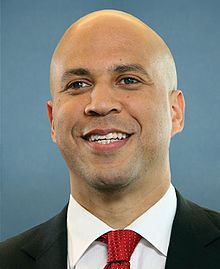 Cory Anthony Booker (1969)
s an American politician and the junior United States Senator from New Jersey, in office since 2013. Previously he served as mayor of Newark from 2006 to 2013.
He attended Stanford University, where he played college football and received a Bachelor of Arts in political science and a Master of Arts in sociology, before earning a Rhodes Scholarship to attend the University of Oxford. Upon returning home, he received his Juris Doctor from Yale Law School.
Booker began his political career as a Newark city councilor from 1998 to 2002. He ran for mayor in 2002, but lost to incumbent Sharpe James; he ran again in 2006 and won against deputy mayor Ronald Rice. During his tenure as mayor, Booker's priorities were reducing crime and encouraging economic development projects. He gained a national reputation for his personal involvement in public service, particularly through his use of social media tools such as Twitter to connect with constituents.
Considered one of the most prominent Democrats in New Jersey, he became a candidate for the United States Senate in the 2013 special election to succeed Frank Lautenberg, who died in office. He won the Senate Democratic primary on August 13, 2013, and then won the general election against Steve Lonegan on October 16, 2013, becoming the first black U.S. Senator from New Jersey. Booker subsequently won the next regular election for the Senate seat against Jeff Bell in 2014.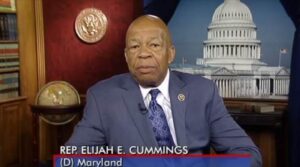 Elijah Eugene Cummings (1951)
A U.S. Representative for Maryland's 7th congressional district, serving since 1996.  He is a member of the Democratic Party. The district includes just over half of Baltimore City, most of the majority-black precincts of Baltimore County, as well as most of Howard County. He previously served in the Maryland House of Delegates.
Cummings was born in Baltimore, the son of Ruth and Robert Cummings.  He has a younger brother James. He graduated with honors from Baltimore City College in 1969.  He later attended Howard University in Washington, D.C., where he served in the student government as sophomore class president, student government treasurer and later student government president. He became a member of the Phi Beta Kappa Society and graduated in 1973 with a Bachelor of Arts in Political Science.
Cummings graduated from law school at the University of Maryland School of Law, receiving his J.D. in 1976. He was admitted to the Maryland Bar in December 1976. He practiced law for 19 years before first being elected to the House in the 1996 elections.
Also after graduating from law school, Congressman Cummings received 12 honorary doctoral degrees from different universities across America.
For 14 years, Cummings served in the Maryland House of Delegates. In the Maryland General Assembly, he served as Chairman of the Legislative Black Caucus of Maryland and was the first African American in Maryland history to be named Speaker Pro Tempore, the second highest position in the House of Delegates.
Congressman Cummings also serves on many different boards and commissions both inside and outside of Baltimore City. Some of those include SEED Schools of Maryland Board of Directors and the University of Maryland Board of Advisors. He is a member of Phi Beta Sigma fraternity.
Maxine Moore Waters (1938)
is the U.S. Representative for California's 43rd congressional district, and previously the 35th and 29th districts, serving since 1991. A member of the Democratic Party, she is the most senior of the 12 black women currently serving in the United States Congress, and is a member and former chair of the Congressional Black Caucus. Before becoming a member of Congress she served in the California Assembly, to which she was first elected in 1976. As an Assembly member, Waters advocated for divestment from South Africa's apartheid regime. In Congress, she was an outspoken opponent of the Iraq War and Donald Trump.
Upon the retirement of Augustus F. Hawkins in 1990, Waters was elected to the U.S. House of Representatives for California's 29th congressional district with over 79% of the popular vote. She has been re-elected consistently with at least 70% of the popular vote in the California's 35th congressional district after significant parts of the pre-1990 29th California Congressional District were folded into the newly defined 35th California Congressional District when California gained seven additional seats in the House following the 1990 United States Census. Waters has represented large parts of south-central Los Angeles and the Los Angeles coastal communities of Westchester and Playa Del Rey, as well as the cities of Torrance, Gardena, Hawthorne, Inglewood and Lawndale.
On July 29, 1994, Waters came to public attention when she repeatedly interrupted a speech by Peter King (R-NY). The presiding officer, Carrie Meek (D-FL), classed her behaviour as "unruly and turbulent", and threatened to have the Sergeant at Arms present her with the Mace of the House of Representatives (the equivalent of a formal warning to desist). As of 2017, this is the most recent instance of the mace being employed in a disciplinary sense. Waters was eventually suspended from the house for the rest of the day. The conflict with King stemmed from the previous day, when they had both been present at a House Banking Committee hearing on the Whitewater controversy. Waters felt King's questioning of Maggie Williams (Hillary Clinton's chief of staff) was too harsh, and they subsequently exchanged hostile words.