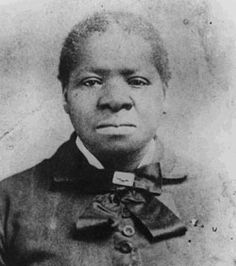 Bridget Mason, known to everyone as Biddy, was born a slave on August 15, 1818 on a plantation in Hancock, Georgia. As a child, she was separated from her parents and sold several times, working on plantations in Georgia, Mississippi and South Carolina. She spent much of her childhood working on John Smithson's plantation in South Carolina, where she assisted the house servants and midwives.

In 1836 Smithson gave the 18-year-old Biddy to his cousins Robert Marion Smith and Rebecca Crosby Smith, as a wedding present, and subsequently taken to the Smiths' plantation in Logtown, Mississippi. Biddy had no formal education, but she learned about midwifery and herbal medicines from other slave women, and became well-regarded as a midwife. While working for the Smiths, Biddy gave birth to three daughters: Ellen, Ann and Harriet, all supposedly fathered by Smith.
Missionaries from the Church of Jesus Christ of Latter-Day Saints converted the Smith Family to the Mormon faith. In 1847, Robert Smith moved his extended family and slaves (90 people in all) from Mississippi to Utah Territory. On this arduous 2,000-mile journey across the country, Biddy was responsible for herding the cattle, preparing meals and acting as a midwife to women and livestock.
With her three young daughters, the youngest on her back, Biddy walked behind her master's wagon train for seven months as they moved to the Salt Lake area of Utah, where Mormon leaders had established a settlement. Several children were born to slaves and white women during the trip, and Mason helped deliver them.
When church leader Brigham Young sent a group of Mormons to San Bernardino, California to establish another community, Smith decided to join them. Young counseled Smith again to free Biddy and his other slaves before going to California, but he refused. Biddy and the other slaves again walked behind the wagons, through mountains and deserts to San Bernardino.
Smith probably did not know that California had been admitted into the Union as a free state in 1850, though there was strong sentiment to the contrary. The law specified that any slave brought into the state was automatically free. Charles Owens, who was courting Biddy's 17-year-old daughter Ellen, and several other free blacks told Biddy how she could gain her freedom.
By 1855 anti-slavery sentiment was growing stronger in California, and Smith decided to move his family and his slaves to the slave state of Texas. He planned to settle there or sell his slaves and make a profit. Smith's journey was delayed because Hannah was about to give birth to another of Smith's children. The group camped in the Santa Monica Mountains and awaited the child's birth.
Meanwhile, Robert Owens, the father of Charles Owens and a successful businessman, persuaded the county sheriff to prevent Smith from taking his slaves out of the state. The sheriff kept the Smith slaves in the county jail for their protection until their legal status could be determined. Robert Owens filed a petition claiming that Smith was illegally holding his slaves in a free state.
Robert Smith did not appear in court, but claimed they were not slaves but members of his family. The case was heard in the United States District Court of Appeals. Legal counsel for the slaves was financed by the Los Angeles Black community. Since California law at the time prohibited blacks from testifying in court, Biddy could not speak on her own behalf, but the judge met with her privately to hear her story.
On January 21, 1856, Los Angeles County District Judge Benjamin Hayes granted the petition and gave Biddy her freedom as a resident of a free state, as well as the freedom of the other slaves held captive by Smith: Biddy's three daughters and ten other African American women and children, all of whom had been held as slaves by Robert Smith during their four-year residence in California.
Biddy had no legal last name as a slave. After emancipation, she chose to be known as Biddy Mason because Mason was the middle name of Amasa Lyman, Mormon Apostle and mayor of San Bernardino. She had spent many years in the company of the Amasa Lyman household.
Biddy moved to Los Angeles, accepting the invitation to live with Robert Owens and his family. Her daughter Ellen soon married Owens' son Charles. Biddy began to work as a nurse and midwife for Dr. John Strother Griffin, a Los Angeles physician who had become interested in her court case. She quickly became well regarded as a nurse and midwife, assisting in hundreds of births to mothers of all races and social classes. She also gained a reputation for her herbal remedies.
Biddy earned $2.50 a day, a good wage for an African American woman at that time. She also often gave her services to those unable to pay. Saving her money and living frugally, she soon became financially independent. After working for ten years, Biddy had saved $250.
On November 28, 1866, she bought two lots bounded by Spring, Fort, Third and Fourth Streets on the outskirts of the city, becoming one of the first African American women to own property in Los Angeles. On one parcel of her property she built a clapboard house, which she occupied until her death.
Biddy initially used the land for gardening and built some small houses to rent for additional income. She continued to rent accommodations for the next 18 years. When she was 66, she sold part of her land for $1,500 and built a commercial building on another parcel. Mason rented out storerooms on the ground floor and lived with her family on the second floor.
Over the ensuing years, this enterprising ex-slave acquired several more lots in Los Angeles. As the town developed, most of her early investments became prime urban real estate and formed the basis of her considerable wealth. In 1872 Biddy and her son-in-law Charles Owens founded and financed the First African Methodist Episcopal Church, the city's first black church, and she donated the land on which the church was built.
Her neighborhood developed quickly, and by the early 1890s the main financial district of Los Angeles was one block from Mason's property. Due to her shrewd investments, Mason was the wealthiest African American woman in Los Angeles by the late 1800s. She spoke fluent Spanish and was a well-known figure downtown, and dined on occasion at the home of Pio Pico, a wealthy Los Angeles land owner.
The area ultimately became the central commercial district of Los Angeles. Through continued wise business and real estate decisions, she acquired many parcels of land that, as the town developed, became prime urban lots – and she accumulated a fortune of almost $300,000, which she shared generously with charities.
Biddy also fed and sheltered the poor, and visited prisoners in the local jail with gifts and aid. She was instrumental in founding a traveler's aid center and an elementary school for black children. Because of her kind and giving spirit, many called her Grandma Mason. Needy people often lined up in front of 331 South Spring Street. One source says she also ran an orphanage in her house.
Biddy Mason died January 15, 1891 in Los Angeles at the age of 73, and was buried in an unmarked grave at Evergreen Cemetery in the Boyle Heights area of Los Angeles.
Nearly a century later, her accomplishments were finally given due respect when a tombstone marked her grave for the first time in a ceremony attended by Mayor Tom Bradley, the first African American mayor of Los Angeles, and several thousand members of the First African Methodist Episcopal church.
A year later, November 16, 1989, was declared Biddy Mason Day in Los Angeles. The next day, a new mixed-use building called the Broadway Spring Center was opened on the spot where Mason's homestead once stood. The site includes an 8-by-81-foot memorial wall dedicated to Mason that includes a collage of her original frame house. Biddy Mason Park has been established on South Spring Street in Los Angeles, California.
Her grandson, Robert Curry Owens, a real estate developer and politician, was the wealthiest African American in Los Angeles at one time.