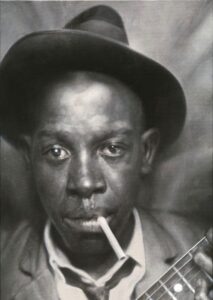 Robert Leroy Johnson, Delta blues musician, was born in Hazelhurst, Mississippi. At a very young age, Johnson began traveling up and down the Delta as an itinerant musician.
His landmark recordings from 1936 and 1937 display a remarkable combination of singing, guitar skills, and songwriting talent that have influenced generations of musicians. Considered to be the grandfather of rock and roll, his recordings "Sweet Home Chicago" (1936), "Cross Road Blues" (1936), "Hellhound on My Trail" (1937), and "Love in Vain" (1937) are listed by the Rock and Roll Hall of Fame amongst the 500 songs that shaped rock and roll.
"Cross Roads Blues" was also inducted into the Grammy Hall of Fame in 1998 as a recording of "qualitative or historical significance." Johnson died August 16, 1938 and was posthumously inducted into the Blues Hall of Fame in 1980 and the Rock and Roll Hall of Fame in 1986. In 1990, "The Complete Recordings" was issued containing almost everything Johnson ever recorded and it won the 1990 Grammy Award for Best Historical Album.
It was also included by the National Recording Preservation Board in the Library of Congress' National Recording Registry in 2003 as "culturally, historically, and aesthetically significant." In 1994, the United States Postal Service issued a commemorative postage stamp in his honor and in 2006 a Grammy Lifetime Achievement Award was given in his name.
Several films have been made about Johnson, including "Stones in My Passway: The Robert Johnson Story" (1990) and "Hellhound on My Trail: The Afterlife of Robert Johnson" (2000).