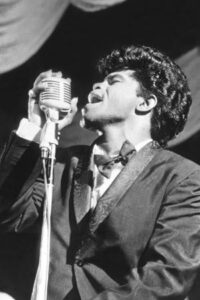 James Joseph Brown, Jr., singer, songwriter, and "The Godfather of Soul," was born in Branwell, South Carolina. Brown dropped out of school in the seventh grade and earned money shining shoes and other odd jobs. In 1955, he joined The Flames and their first recording, "Please, Please, Please" (1956), sold more than a million copies.
Brown returned to the charts in 1958 with "Try Me" which was the best selling R&B single of the year and the first of 17 number one R&B singles by Brown over the next two decades. While successful in the R&B world, Brown was not known nationally until the release of his self-financed 1963 album "Live at the Apollo."
Because his record company refused to promote his records beyond the "black" market, Brown co-founded his own production company to promote his records to white audiences. As a result, in 1965 "Papa's Got a Brand New Bag," which won the Grammy Award for Best Rhythm and Blues Recording, and "I Got You (I Feel Good)" were his first Top 10 pop hits.
Other hits by Brown include "Cold Sweat" (1967), "Get Up (I Feel Like Being A Sex Machine)" (1970), "Get Up Offa That Thing" (1976), and "Living in America" (1985) which won the Grammy Award for Best Male R&B Vocal Performance. During the late 1960s and early 1970s, he was known for his social activism, recording songs such as "Don't Be a Drop-Out" (1966) and "Say It Loud – I'm Black and I'm Proud" (1968) and performing benefit concerts for various civil rights organizations.
His 1968 performance in front of a televised audience in Boston the day after the assassination of Martin Luther King, Jr. is documented in the PBS film "The Night James Brown Saved Boston." Brown received a number of awards and honors, including being one of the first inductees into the Rock and Roll Hall of Fame in 1986, the Grammy Lifetime Achievement Award in 1992, the Rhythm and Blues Foundation Lifetime Achievement Award in 1993, Kennedy Center Honors in 2003, and induction into the United Kingdom Music Hall of Fame in 2006.
In 2005, the city of Augusta, Georgia unveiled a life-sized bronze statue of Brown. Brown died December 25, 2006 and is recognized as one of the most influential figures in 20th century popular music. Brown published his autobiography, "The Godfather of Soul," in 1990.