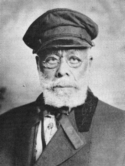 May 2, 1843 Elijah J. McCoy, engineer and inventor, was born in Colchester, Ontario, Canada. His parents had escaped enslavement to Canada. McCoy studied engineering in Edinburgh, Scotland and after returning to Canada found work with the Michigan Central Railroad. On July 12, 1872, he received patent number 129,843 for "Improvements in Lubricators for Steam-Engines." This was a boon for railroads because it allowed trains to run faster and more profitably with less need to stop for lubrication and maintenance.
McCoy continued to invent until late in his life, receiving 57 patents mostly related to lubrication, but also including a folding ironing board and a lawn sprinkler. In 1920, he formed the Elijah McCoy Manufacturing Company and he died October 10, 1929. In 1975, a historical marker was placed at the site of his Detroit, Michigan home and Elijah McCoy Drive in Detroit was named in his honor. In 2001, he was posthumously inducted into the National Inventors Hall of Fame and in 2006 the play "The Real McCoy" was written which chronicled his life and inventions.
His biography, also titled "The Real McCoy," was published in 2007. McCoy's name is enshrined in the Ring of Genealogy at the Charles H. Wright Museum of African American History in Detroit, Michigan.