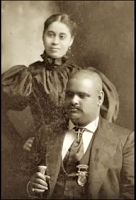 John William "Blind" Boone, pianist and ragtime music composer, was born near Miami, Missouri. When he was six months old, doctors removed his eyes in an attempt to cure his brain fever. Boone's musical talents were recognized early and in 1872 he was sent to the St. Louis School for the Blind to study piano.
In 1880, his professional career was launched after he played in a concert with the famous pianist, Blind Tom. After that, Boone played thousands of concerts in the United States, Canada, and Mexico. During his lifetime, Boone was a committed philanthropist who supported local causes and opened his home to the community.
He donated generously to several churches and gave his time and talent to local youth. Boone died October 4, 1927 and his home in Columbia, Missouri is listed on the National Register of Historic Places. The John William Boone Heritage Foundation was founded to preserve the history of Blind Boone and Blind Boone Park in Warrensburg, Missouri is named in his honor.
His biography, "Blind Boone: Missouri's Ragtime Pioneer," was published in 1998.