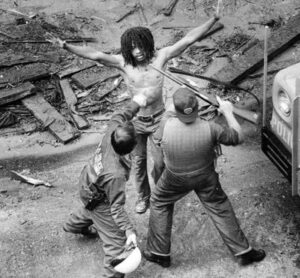 MOVE is a Philadelphia-based black liberation group founded by John Africa (born Vincent Leaphart) in 1972. The group lives communally.The group is particularly known for two major conflicts with the Philadelphia Police Department.
In 1978, a standoff resulted in the death of one police officer, injuries to several other people, and life sentences for nine members. In 1985, another standoff ended when a police helicopter dropped a bomb on their compound, a row house in the middle of the 6200 block of Osage Avenue, causing a fire. This killed eleven MOVE members, including five children. The fire burst out of control and destroyed 65 houses in the neighborhood, prompting widespread news coverage.
The group's name, MOVE, is not an acronym. The group was originally called the Christian Movement for Life when it was founded in 1972. Its founder, John Africa, was functionally illiterate. He dictated a document called The Guideline to Donald Glassey, a social worker from the University of Pennsylvania. Africa and his contemporary, mostly African-American followers wore their hair in dreadlocks, as popularized by Caribbean religion.
They advocated a radical form of green politics and a return to a hunter-gatherer society, while stating their opposition to science, medicine, and technology. As John Africa had done, his devotees changed their surnames to Africa to show reverence to what they regarded as their mother continent.
John Africa's MOVE members lived in a commune in a house owned by Glassey in the Powelton Village section of West Philadelphia. They stagedbullhorn-amplified, profanity-laced demonstrations against institutions that they opposed, such as zoos (MOVE had strong views on animal rights), and speakers whose views they opposed.
MOVE activities drew close scrutiny from law enforcement authorities
In 1977 the police gained a court order requiring MOVE to vacate their Powelton Village house at 311 N 33rd Street. Nearly a year later, they had come to a standoff with members of the community, who had not left. When police attempted entry to the house, shooting erupted.
Philadelphia Police Department officer James J. Ramp was killed by a shot to the back of the neck. MOVE representatives claimed that he was facing the house at the time and they denied MOVE's responsibility for his death. Seven other police officers, five firefighters, three MOVE members, and three bystanders were also injured.
Nine MOVE members were convicted and each sentenced to a maximum of 100 years in prison for third degree murder for Ramp's murder. Seven of the nine first became eligible for parole in the spring of 2008, but they were denied it. Parole hearings now occur yearly.
In 1998, at age 47, Merle Africa died in prison. In 2015, at age 59, Phil Africa died in prison. The remaining seven in prison are Chuck Africa, Michael Africa, Debbie Africa, Janet Africa, Janine Africa, Delbert Africa, and Eddie Africa.
In 1981 MOVE relocated to a row house at 6221 Osage Avenue in the Cobbs Creek area of West Philadelphia. After the move, neighbors complained for years that MOVE members were broadcasting political messages by bullhorn. The bullhorn was broken and inoperable for the three weeks prior to the bombing of the row house.
The police obtained arrest warrants charging four occupants with crimes including parole violations, contempt of court,illegal possession of firearms, and making terrorist threats. Mayor W. Wilson Goode and police commissioner Gregore J. Sambor classified MOVE as a terrorist organization. On Monday, May 13, 1985, the police, along with city manager Leo Brooks, arrived in force and attempted to clear the building and execute the arrest warrants.
This led to an armed standoff with police, who lobbed tear gas canisters at the building. The police said that MOVE members fired at them; a gunfight with semi-automatic and automatic firearms ensued. Commissioner Sambor ordered that the compound be bombed. From a Pennsylvania State Police helicopter, Philadelphia Police Department Lt. Frank Powell proceeded to drop two one-pound bombs (which the police referred to as "entry devices") made of FBI-suppliedwater gel explosive, a dynamite substitute, targeting a fortified, bunker-like cubicle on the roof of the house.
The resulting explosions ignited a fire from fuel for a gasoline-powered generator in the rooftop bunker; it spread and eventually destroyed approximately 65 nearby houses. The firefighters, who had earlier deluge-hosed the MOVE members in a failed attempt to evict them from the building, stood by as the fire caused by the bomb engulfed the first house and spread to others, having been given orders to let the fire burn.
Despite the earlier drenching of the building by firefighters, officials said they feared that MOVE would shoot at the firefighters. Eleven people (John Africa, five other adults, and five children aged 7 to 13) died in the resulting fire, and more than 250 people in the neighborhood were left homeless. Ramona Africa, one of the two survivors, said that police fired at those trying to escape.