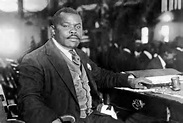 Marcus Garvey (1887-1940)
Leader and Philosopher
Among Black leaders Marcus Garvey was unique. Born August 17, 1887 in St. Ann's Bay, Jamaica, Marcus Mosiah Garvey's popularity was universal. His program for the return of African people to their motherland shook the foundations of three empires. All subsequent Black power movements have owed a debt to his example. In building his Universal Negro Improvement Association he sought "To improve the condition of the race with the view of establishing a nation in Africa where Blacks will be given the opportunity to develop by themselves." In his famous Philosophies and Opinions, Marcus Garvey wrote, "Where is the Black man's government? Where is his president, his country and his ambassadors, his army, his navy, his men of big affairs?" Founded in 1914, the UNIA grew in just five years to include to include over six million followers. He built newspapers, schools, churches, a shipping company, printing operations, food and clothing stores. In 1919, he launched the Black Star Shipping Lines. His program was one of Black self-determination and independence and set the theme for all Black development today. He died in London, England on June 10, 1940.