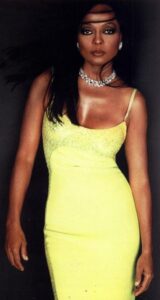 Diana Ross, singer and actress, was born in Detroit, Michigan. In 1959, Ross joined The Primettes who in 1961 were signed by Motown Records and their name was changed to The Supremes. The Supremes became the most successful vocal group of the 1960s with 12 number one singles. Ross was inducted into the Rock and Roll Hall of Fame in 1988 and the Vocal Group Hall of Fame in 1998 as a member of The Supremes.
Two of their recordings, "Where Did Our Love Go" (1999) and "Stop! In the Name of Love" (2001), were inducted into the Grammy Hall of Fame as recordings that have "qualitative or historical significance." In 1969, Ross began her solo career and her first album, "Diana Ross," was released in 1970.
In 1972, Ross starred in the movie "Lady Sings the Blues" for which she received an Academy Award nomination for Best Actress and won the Golden Globe Award for Most Promising Newcomer-Female.
In 1975, she starred in "Mohogany," in 1978 "The Wiz," and in the 1990s she starred in two television movies, "Out of Darkness" (1994) and "Double Platinum" (1999). In 1977, Ross won the Tony Award for Best Musical Special for her one woman show, "An Evening with Diana Ross."
Other albums by Ross include "Touch Me in the Morning" (1973), "The Boss" (1979), "diana" (1980), and "I Love You" (2006). Including her work with The Supremes, Ross has released 67 albums and sold more than 100 million records.
In 1976, Billboard magazine named her the "Female Entertainer of the Century" and in2007 she received the Kennedy Center Honors. Ross' autobiography, "Secrets of a Sparrow," was published in 1995.