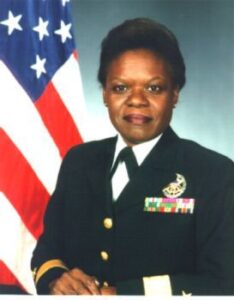 Lillian Elaine Fishburne, the first African American female to hold the rank of rear admiral in the United States Navy, was born at Patuxent River, Maryland, but raised in Rockville, Maryland.
Fishburne earned her Bachelor of Arts degree in sociology from Lincoln University in 1971 and was commissioned an ensign after completing Women Officers School in 1973. From 1977 to 1980, she was the officer in charge of the Naval Telecommunications Center in Illinois.
In 1980, Fishburne earned her Master of Arts degree in management from Webster College and in 1982 her Master of Science degree in telecommunications systems management from the Naval Postgraduate School.
Subsequent appointments to positions like executive officer of the Naval Communications Command in Japan and special projects officer for the navy's Command, Control, and Communications Directorate led to her selection for the Industrial College of the Armed Forces, from which she graduated in 1993.
Fishburne was promoted to rear admiral on February 1, 1998 and retired from the navy in 2001.