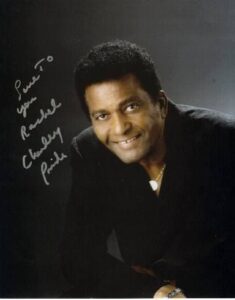 Charley Frank Pride, country music singer, was born in Sledge, Mississippi. Pride's initial love and life-long dream was to become a professional baseball player. However after a number of years in the minor leagues and several injuries, he turned to music.
In 1966, Pride released "Just Between You and Me" which was a hit and earned him a Grammy Award nomination the next year. In 1967, he became the first Black performer to appear at the Grand Ole Opry since 1925 and between 1969 and 1971 Pride had eight singles that reached number one on the Country Hit Parade and also charted on the Pop Charts.
In 1971, he released his biggest hit "Kiss an Angel Good Morning" which sold more than a million copies and won him the Country Music Association's Entertainer of the Year Award and the Top Male Vocalist Award. In 1972, he won the Grammy Award for Best Country Vocal Performance, Male for "Charley Pride Sings Heart Songs." I
n 1994, Pride published his autobiography "Pride: The Charley Pride Story" and he received the Pioneer Award from the Academy of Country Music. Over his career, Pride has sold more than 70 million records and in 2000 was inducted into the Country Music Hall of Fame and Museum.
In 2010, Pride became a minority owner of the Texas Rangers baseball club.