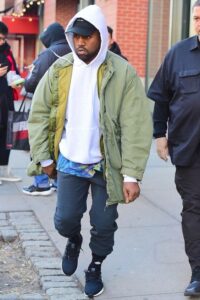 Kanye Omari West is an American rapper, singer, songwriter, record producer, fashion designer, and entrepreneur. Born in Atlanta and raised in Chicago, West briefly attended art school before becoming known as a producer for Roc-A-Fella Records in the early 2000s, producing hit singles for artists such as Jay-Z and Alicia Keys. Intent on pursuing a solo career as a rapper, West released his debut album The College Dropout in 2004 to widespread critical and commercial success, and founded the record label GOOD Music.
He went on to pursue a variety of styles on subsequent albums Late Registration (2005), Graduation (2007), and 808s & Heartbreak (2008). In 2010, he released his fifth album My Beautiful Dark Twisted Fantasy to rave reviews from critics, and the following year he released the collaborative album Watch the Throne with Jay-Z. West released his abrasive sixth album, Yeezus, to further critical praise in 2013. His seventh album, The Life of Pablo, was released in 2016.
West's outspoken views and life outside of music have received significant mainstream attention. He has been a frequent source of controversy for his conduct at award shows, on social media, and in other public settings. His more scrutinized comments include his off-script denunciation of President George W. Bush during a live 2005 television broadcast for Hurricane Katrina relief and his interruption of singer Taylor Swift at the 2009 MTV Video Music Awards.
West's ventures as a fashion designer include collaborations with Nike, Louis Vuitton, and A.P.C. on both clothing and footwear, and have most prominently resulted in the YEEZY collaboration with Adidas beginning in 2013. He is the founder and head of the creative content company DONDA. His 2014 marriage to television personality Kim Kardashian has also been subject to widespread media coverage.
West is among the most acclaimed rappers of the 21st century, and is one of the best-selling artists of all time, having sold more than 32 million albums and 100 million digital downloads worldwide. He has won a total of 21 Grammy Awards, making him one of the most awarded artists of all time and the most Grammy-awarded artist to have debuted in the 21st century.
Three of his albums have been included and ranked on Rolling Stone's 2012 update of the "500 Greatest Albums of All Time" list. He has also been included in a number of Forbes annual lists. Time named him one of the 100 most influential people in the world in 2005 and 2015.
West was born on June 8, 1977, in Atlanta, Georgia. His parents divorced when he was three years old. After the divorce, he and his mother moved to Chicago, Illinois.
His father, Ray West, is a former Black Panther and was one of the first black photojournalists at The Atlanta Journal-Constitution. Ray West was later a Christian counselor, and in 2006, opened the Good Water Store and Café in Lexington Park, Maryland with startup capital from his son.
West's mother, Dr. Donda C. (Williams) West, was a professor of English at Clark Atlanta University, and the Chair of the English Department at Chicago State University before retiring to serve as his manager. West was raised in a middle-class background, attending Polaris High School in suburban Oak Lawn, Illinois, after living in Chicago.
At the age of 10, West moved with his mother to Nanjing, China, where she was teaching at Nanjing University as part of an exchange program. According to his mother, West was the only foreigner in his class, but settled in well and quickly picked up the language, although he has since forgotten most of it. When asked about his grades in high school, West replied, "I got A's and B's. And I'm not even frontin'."
West demonstrated an affinity for the arts at an early age; he began writing poetry when he was five years old. His mother recalled that she first took notice of West's passion for drawing and music when he was in the third grade. Growing up in Chicago, West became deeply involved in its hip hop scene.
He started rapping in the third grade and began making musical compositions in the seventh grade, eventually selling them to other artists. At age thirteen, West wrote a rap song called "Green Eggs and Ham" and began to persuade his mother to pay $25 an hour for time in a recording studio. It was a small, crude basement studio where a microphone hung from the ceiling by a wire clothes hanger.
Although this wasn't what West's mother wanted, she nonetheless supported him. West crossed paths with producer/DJ No I.D., with whom he quickly formed a close friendship. No I.D. soon became West's mentor, and it was from him that West learned how to sample and program beats after he received his first sampler at age 15.
After graduating from high school, West received a scholarship to attend Chicago's American Academy of Art in 1997 and began taking painting classes, but shortly after transferred to Chicago State University to study English.
He soon realized that his busy class schedule was detrimental to his musical work, and at 20 he dropped out of college to pursue his musical dreams. This action greatly displeased his mother, who was also a professor at the university. She later commented, "It was drummed into my head that college is the ticket to a good life… but some career goals don't require college. For Kanye to make an album called College Dropout it was more about having the guts to embrace who you are, rather than following the path society has carved out for you.