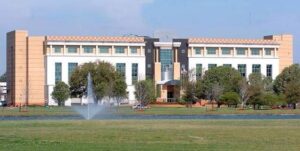 Mississippi Valley State University (commonly referred to as MVSU , The Valley or Valley) is a historically black university located in Mississippi Valley State, Leflore County, Mississippi, in the Mississippi Delta, near Itta Bena. MVSU is a member-school of the Thurgood Marshall College Fund.
The institution, which opened in 1950, was created by the Mississippi Legislature as Mississippi Vocational College. The legislation to form the institution was signed into law by Governor Thomas L. Bailey on April 5, 1946.
The legislature anticipated that legal segregation of public education was in danger (and would in four years be declared unconstitutional in the United States Supreme Court's decision in Brown v. Board of Education) and therefore created the institution, hoping that its existence would draw African-American applicants who might have otherwise applied to attend Mississippi's premier whites-only institutions—the University of Mississippi, Mississippi State University, and the University of Southern Mississippi.
Creating separate institutions of higher learning for Mississippi's black population, the state's political leaders hoped, would help ease the pressure to integrate the state's premier universities. To attract the support of those who opposed any government action to provide higher education to blacks, those proposing creation of M.V.C. used the term "vocational" to imply that the institution's main purpose would be to train blacks to take on blue-collar jobs.
The site selection committee appointed by the Board of Trustees of State Institutions of Higher Learning had originally selected the former Greenwood Army Air Base, which had many facilities ready for use and thus would have been a very cost-effective choice. The Greenwood Commonwealth celebrated the choice. However, residents of Carroll County, Mississippi objected to having the institution located near their property.
Thus after further study, the proposed site was moved to Itta Bena. Even that town, however, objected to too close a proximity of a black institution, so the final site was chosen to place the college away from the downtown area, on cheap, uncultivatable land.
In 1964, Mississippi Vocational College was renamed Mississippi Valley State College.
In February 1969, a nonviolent student boycott which included eight hundred students, male and female was organized to protest President White's administration of the institution. The students were demanding required courses in black history, more library purchases of works by black writers, remedial courses in English and Math, scheduling of prominent black speakers and fewer curfew restrictions.
In the early 1970s, civil rights leaders continued to protest the inequalities in higher education opportunities offered to whites and blacks in Mississippi. In an effort to defuse some of the criticism, Gov. Bill Waller proposed changing the names of three black institutions from "colleges" to "universities". Thus, in 1974, the institution was renamed again, as Mississippi Valley State University.
Following President White, Dr. Earnest A. Boykins took office in July 1971. Dr. Joe L. Boyer became MVSU's third president in January 1982 and was followed by Dr. William W. Sutton in July 1988. Dr. Lester C. Newman became the fifth president of MVSU on July 1, 1998. Dr. Donna H. Oliver became MVSU's sixth president and first female president on January 1, 2009. On November 6, 2013, Dr. William Bynum took office as MVSU's seventh president.
In May 2017, Bynum departed MVSU to become president of Jackson State University. Dr. Jerryl Briggs, who served as executive vice president and chief operating officer in Bynum's administration, was named interim president of the university shortly afterwards. On October 19, 2017, Briggs was officially named as the university's eighth president.
In a 1997 article in Innovative Higher Education, the journalist Dale Thorn describes MVSU's successful attempt to avoid a merger with another institution and to remain a separate entity.
In 1998, the university renamed many of the buildings on campus, except for those named for Sillers, Wright, and J.H.White.
MVSU public radio station is WVSD 91.7 FM. The station offers a variety of programming involving MVSU, current events, and music.