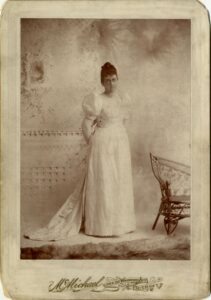 Emma Azalia Hackley (1867–1922) was an African-American singer and political activist. She promoted racial pride through her support and promotion of music education for African Americans.
Born Emma Azalia Smith in Murfreesboro, Tennessee, she learned to play the piano at age three and took voice and violin lessons as a child. Due to her very light skin color and light hair, many people suggested that she try to pass for white in order to further her musical career.
She refused to deny her heritage and remained intensely proud of her roots throughout her life. She moved with her parents to Detroit, Michigan where she graduated from high school in 1886.
After high school, she worked as an elementary school teacher before meeting and marrying Edwin Henry Hackley, an attorney and newspaper publisher from Denver, Colorado.
During her time in Denver she founded the Colored Women's League and co-founded the Imperial Order of Libyans with her husband. She received her bachelor's degree from the Denver School of Music in 1900.
Emma Hackley promoted racial pride through music.
In 1905, Hackley separated from her husband and moved to Philadelphia, Pennsylvania where she was the music director for the Episcopal Church of the Crucifixion.
Later in life, she trained artists such as Marian Anderson, Roland Hayes, and R. Nathaniel Dett. In 1911, she formed the Vocal Normal Institute in Chicago, Illinois.
She died in Detroit, Michigan in 1922.
A special collection, the E. Azalia Hackley Collection of African Americans in the Performing Arts, was founded in her name at the Detroit Public Library in 1943.