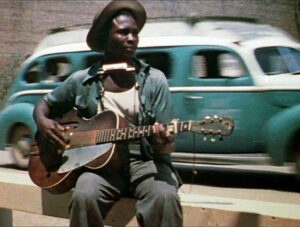 David "Honeyboy" Edwards, blues guitarist and singer, was born in Shaw, Mississippi. At the age of 14, Edwards left home to begin the life of an itinerant musician which he led throughout the 1930s and 1940s.
During that time, he played with many of the leading bluesmen of the Mississippi Delta, including Robert Johnson and Big Joe Williams.
In 1942, Edwards was recorded for the Library of Congress. He did not record again until 1951 when he recorded "Who May Be Your Regular Be." Other albums by Edwards include "Drop Down Mama" (1953), "I've Been Around" (1995), and "Roamin' and Ramblin'" (2008).
Edwards received the 2008 Grammy Award for Best Traditional Blues Album for "Last of the Great Mississippi Delta Bluesmen: Live in Dallas." He was inducted into the Blues Hall of Fame in 1996 and in 2010 received the Grammy Lifetime Achievement Award and the National Guitar Museum Lifetime Achievement Award. Edwards published his autobiography, "The World Don't Owe Me Nothin'," in 1997.
In 2002, he received a National Endowment for the Arts Heritage Fellowship, recognizing him as a national treasure. The story of his life is also told in the 2010 film "Honeyboy and the History of the Blues." Edwards died August 29, 2011.