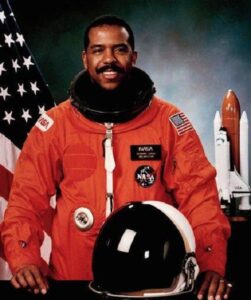 Bernard Anthony Harris, Jr., the first African American in space to perform an extra-vehicular activity, was born in Temple, Texas. He graduated from Sam Houston High School in San Antonio, Texas where he participated in science fairs, book clubs and other school activities. Harris earned his Bachelor of Science degree in biology from the University of Houston in 1978 and his Doctor of Medicine degree from Texas Tech University School of Medicine in 1982.
He completed a residency in internal medicine at the Mayo Clinic. Harris trained as a flight surgeon at the Aerospace School of Medicine and Joined the National Aeronautics and Space Administration's Johnson Space Center as a clinical scientist and flight surgeon. Harris became an astronaut in 1991 and in 1993 flew on his first space mission as a mission specialist.
He flew on his second space mission in 1995 as the payload commander and during that mission became the first African American to walk in space. In total, Harris logged 437 hours in space and traveled over 7.1 million miles. Harris left NASA in 1996 and in 1998 founded The Harris Foundation "to invest in community-based initiatives to support education, health and wealth.
THF supports programs that empower individuals, in particular minorities and other economically and/or socially disadvantaged, to recognize their potential and pursue their dreams." In 2006, the Bernard Harris Middle School opened in San Antonio, Texas.