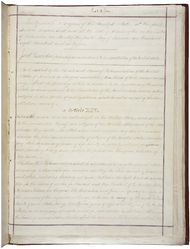 The Fourteenth Amendment (Amendment XIV) to the United States Constitution was adopted on July 9, 1868, as one of the Reconstruction Amendments. The amendment addresses citizenship rights and equal protection of the laws, and was proposed in response to issues related to former slaves following the American Civil War. The amendment was bitterly contested, particularly by the states of the defeated Confederacy, which were forced to ratify it in order to regain representation in Congress.
The Fourteenth Amendment, particularly its first section, is one of the most litigated parts of the Constitution, forming the basis for landmark decisions such as Brown v. Board of Education (1954) regarding racial segregation, Roe v. Wade (1973) regarding abortion, Bush v. Gore (2000) regarding the 2000 presidential election, and Obergefell v. Hodges (2015) regarding same-sex marriage. The amendment limits the actions of all state and local officials, including those acting on behalf of such an official.
The amendment's first section includes several clauses: the Citizenship Clause, Privileges or Immunities Clause, Due Process Clause, and Equal Protection Clause. The Citizenship Clause provides a broad definition of citizenship, overruling the Supreme Court's decision in Dred Scott v. Sandford (1857), which had held that Americans descended from African slaves could not be citizens of the United States. The Privileges or Immunities Clause has been interpreted in such a way that it does very little.