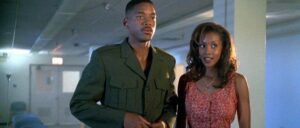 Vivica Anjanetta Fox (born July 30, 1964) is an American actress, producer and television host. She began her career with roles on the daytime television soap operas Days of Our Lives (1988) and Generations (1989–91), subsequently shifting to the prime-time slot starring opposite Patti LaBelle, in the NBC sitcom Out All Night (1992–93).
Her breakthrough came in 1996, with roles in two box-office hit films, Roland Emmerich's Independence Day and F. Gary Gray's Set It Off. She later has starred in films Booty Call (1997), Soul Food (1997), Why Do Fools Fall in Love (1998), Kingdom Come (2001), Two Can Play That Game (2001), and Boat Trip (2002). Fox played Vernita Green in Kill Bill, and played supporting parts in films like Ella Enchanted (2004).
Fox had the leading roles in the short-lived Fox sitcom Getting Personal (1998), and CBS medical drama City of Angels (2000). From 2003 to 2006, she co-starred in and produced the Lifetime crime drama series, Missing for which she received NAACP Image Award for Outstanding Actress in a Drama Series. Fox also produced number of straight-to-video films. In 2016, Fox reprised her role as Jasmine Dubrow in Independence Day: Resurgence (2016).
Fox was born in South Bend, Indiana, the daughter of Everlyena, a pharmaceutical technician, and William Fox, a private school administrator. She has African American and Native American ancestry. Her parents relocated to the Indianapolis, Indiana, area soon after her birth. Fox is a graduate of Arlington High School in Indianapolis, and Golden West College in Huntington Beach, California with an Associate Art degree in Social Sciences.
From 2004 to 2006, Fox starred as FBI special agent Nicole Scott and co-produced the Lifetime television crime drama series, Missing. She received NAACP Image Award for Outstanding Actress in a Drama Series for her role in 2006. Also in 2000s, she produced (and played the leading roles) several films, include Motives, The Salon, Getting Played and Three Can Play That Game. From 2007 to 2009, she had the recurring role in the HBO comedy series, Curb Your Enthusiasm as a mother of a family displaced by a hurricane and taken in by Larry and Cheryl.
Fox was a judge on The WB's talent show The Starlet. Fox participated in the third season of ABC's hit television show, Dancing with the Stars, she was voted off after the fourth week. In 2009, Fox served as celebrity spokesperson for the newly revamped Psychic Friends Network. After receiving backlash for her involvement with the network, Fox denied any involvement with the company, despite having filmed a commercial and promo video which had already gone to air. Fox also hosted her own VH1 reality series Glam God with Vivica A. Fox (2008), TV Land's The Cougar (2009), and Lifetime's Prank My Mom (2012). She was contestant on The Apprentice in 2015.
In late 2000s and 2010s, Fox had supporting roles in poorly received by critics movies such as The Hard Corps (2006) alongside Jean-Claude Van Damme, Kickin' It Old Skool (2007) starring Jamie Kennedy, and Private Valentine: Blonde & Dangerous (2008) with Jessica Simpson. She worked in many smaller movies such as Shark City, Black November, 30 Days in Atlanta and Mercenaries the following years. On television, Fox had guest star roles on Law & Order, Drop Dead Diva, Melissa & Joey and Raising Hope. As regular, she starred in the syndicated sitcom Mr. Box Office alongside Bill Bellamy and Jon Lovitz.
In 2015, she was cast as Cookie Lyon's sister for the second season of the Fox prime time soap opera, Empire. In 2016, she reprised her Independence Day role in Roland Emmerich's Independence Day: Resurgence. The film was released on June 24, 2016. In 2016 it was announced that she would portray the president of the United States in the science fiction film "Crossbreed", making her the first African-American woman to portray the role in a feature film.