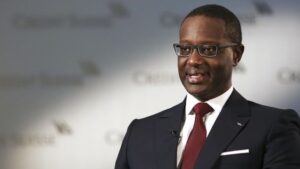 Tidjane Thiam (born 29 July 1962) is an Ivorian businessman and former politician who became the chief executive of Credit Suisse in June 2015. Born in Côte d'Ivoire, he holds dual Ivorian and French citizenship. He studied advanced mathematics and physics in France before joining the management consultants McKinsey & Company in 1986, where he worked until 1994.
From 1994 to 1999 he worked in Côte d'Ivoire first as chief executive of the National Bureau for Technical Studies (BNETD), reporting directly to the prime minister and the president, and from 1998 as both chairman of the BNETD and Minister of Planning and Development.
Following the Ivorian coup of 1999, he resumed a private sector career and rejoined McKinsey in Paris from 2000 to 2002, then worked as a senior executive for Aviva before being recruited by Prudential plc. When appointed the chief executive of Prudential in 2009, he became the first black person to lead a FTSE 100 company. On 10 March 2015, it was announced that Thiam would leave Prudential to become the next CEO of Credit Suisse, succeeding Brady Dougan.
Thiam was born in Côte d'Ivoire. He is a descendant of two prominent families from Senegal and Cote d'Ivoire. On his mother's side, he is a descendant of Yamousso, after whom the capital of Côte d'Ivoire, Yamoussoukro, is named. Thiam's mother, Marietou, was the niece of Félix Houphouët-Boigny, the founder and first President of Côte d'Ivoire.
His father, Amadou Thiam, a journalist, was born in Senegal and emigrated to Côte d'Ivoire in 1947. He supported Houphouet-Boigny in his fight for the independence of the country and served more than ten years in the Ivorian cabinet after independence. He was a Grand Officier de la Légion d'honneur, France's highest order of decoration. Tidjane's uncle, Habib Thiam, was Prime Minister of Senegal for more than 10 years and also served as President of the National Assembly.
In 1982 Thiam was the first Ivorian to pass the entrance examination to the École Polytechnique in Paris. In 1984, he graduated from the École Polytechnique and in 1986 from the École Nationale Supérieure des Mines de Paris where he was top of his class.
In 1986 he was offered a scholarship to study for an MBA at INSEAD and join the 'McKinsey Fellows Programme' in Paris. He received an MBA from INSEAD in 1988 (Dean's list). In 1989 he took a one-year sabbatical from McKinsey to participate in the World Bank's Young Professionals Program in Washington, D.C. He returned to McKinsey in 1990, working first in New York City and then in Paris.