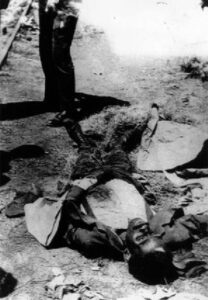 The East St. Louis Riot was set of when a car occupied by white males drove through the black area of East St. Louis and fired several shots into a group of black residents. An hour later police detectives drove through the same area and black residents, assuming they were the original people, opened fire and killed the two detectives.
Thousands of whites marched into the black section of town, burning houses and shooting inhabitants as they tried to escape the flames. Several blacks were lynched. Police estimated that 100 blacks were killed and 6,000 blacks were left homeless after their neighborhoods were burned.
On July 28, 1917 10,000 black people marched down Fifth Avenue in New York City in silent protest of the riots. An account of the riot and its impact, "Never Been a Time: The 1917 Race Riot That Sparked the Civil Rights Movement," was published in 2008.