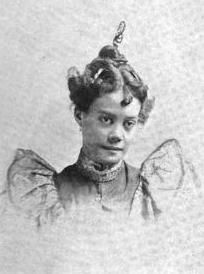 Alice Ruth Moore, educator, author and social activist, was born on July 19, 1875 in New Orleans, Louisiana to Patricia (Wright) Moore and Monroe Moore. She attended public school in New Orleans and enrolled in the teacher training program at Straight University in that city in 1890. Two years later she graduated and began teaching in New Orleans.
Moore developed her literary skills while teaching and soon became a prolific writer. Her first book, Violets and Other Tales, a collection of short stories, was published in 1895. Later that year she published The Goodness of St. Rocque, and Other Short Stories.
Through her career Alice Moore wrote four novels, two volumes of oratory, dramas, newspaper columns, two collections of essays, poems, short stories and reviews, many of which drew on her extensive knowledge of Creole culture. In all of these collections, Alice Moore proved to be a perceptive critic of American society.
Alice Moore was married three times. Her first marriage was to Paul Laurence Dunbar, the poet. Dunbar noticed her picture and one of her poems in the Boston Monthly Review in 1895, and was instantly infatuated.
They began a two year correspondence and finally met in February 1897. They were married on March 6, 1898 in New York City, New York and moved to Washington, D.C. The marriage initiated a tumultuous relationship and they separated in 1902.
As husband and wife they shared literary pursuits and celebrity status in Washington, but their life together was marred by Paul's physically abusive treatment of Alice. In one incident she was sent to a Washington, D.C. hospital where she nearly died after his attack.
After the separation Alice Moore Dunbar moved to Wilmington, Delaware. She worked at Howard High School in an assortment of positions, and was involved in several intimate relationships with both men and women.
She secretly married fellow teacher Henry A. Callis in 1910, but divorced him shortly after. It was not until her third marriage in 1916 to Robert J. Nelson, a journalist and political activist, that she was involved in a stable relationship.