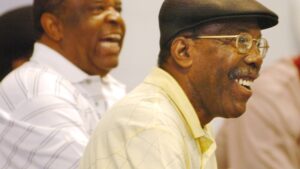 Calvin Peete (July 18, 1943 – April 29, 2015) was an American professional golfer. He was the most successful African-American to have played on the PGA Tour, with 12 wins, prior to the emergence of Tiger Woods.
Peete was born in Detroit, Michigan. He played on the 1983 and 1985 U.S. Ryder Cup teams. He won the Vardon Trophy for lowest scoring average in 1984. He was in the top 10 of the Official World Golf Ranking for several weeks when they debuted in 1986.
Peete did not begin playing golf until he was in his 20s, but immediately excelled at a game most pros learn as young children. He learned the game while peddling goods to migrant workers in Rochester, New York, playing on the public course at Genesee Valley Park. Growing up poor, Peete suffered a badly broken arm that was never properly set. He was the leader in driving accuracy on the PGA Tour for 10 straight years, 1981–90. Peete was inducted into the African American Ethnic Sports Hall of Fame in 2002.