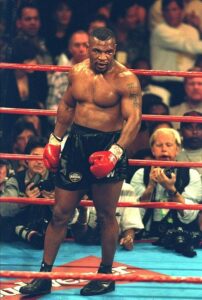 Michael Gerald "Iron Mike" Tyson, hall of fame boxer, was born in Brooklyn, New York. After the death of his mother, the 16 year old Tyson was left in the care of boxing manager and trainer Cus D'Amato who became his legal guardian.
In 1982, Tyson won the Silver medal at the Junior Olympic Games. Tyson made his professional boxing debut in 1985 and in 1986 won the World Boxing Council Heavyweight Boxing Championship, becoming the youngest heavyweight champion in history. By 1988, Tyson had won all of the major titles and was considered the undisputed heavyweight champion of the world.
In 1986 and 1988, he was named Ring Magazine "Fighter of the Year. In February, 1990, in one of the most shocking upsets in sports history, the "undefeatable" Tyson was beaten by Buster Douglas. After that defeat, personal problems, incarceration, and other issues combined to effectively end Tyson's championship quest.
He retired from professional boxing in 2005 with a record of 50 wins, 6 defeats, and 2 no contests. Tyson is ranked number 16 on Ring magazine's list of 100 greatest punchers of all time. In 2008, the documentary, "Tyson," premiered at the Cannes Film Festival. Tyson was inducted into the International Boxing Hall of Fame in 2010.