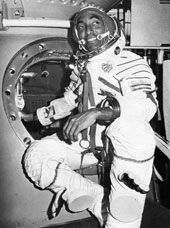 January 29, 1942 Arnaldo Tamayo Mendez was born January 29, 1942 and has become the first person of African descent to travel in space. He was born in Guantanamo, Cuba and upon graduation from the Cuban Air Force Academay and became a pilot in the Cuban Air Defense Force before being selected as part of the Soviet Union's Intercosmos program in 1978. As a member of the crew of Soyuz 38, he became the first Cup uban citizen and the first person from a country in the Western Hemisphere other than the United States to travel into Earth orbit.
Tamayo was launched into space where he spent 188 hours conducting experiments on space adaptation syndrome. along with Soviet cosmonaut Yuri Romanenko aboard Soyuz 38 from Baikonur Cosmodrome on September 18, 1980, at 19:11 UTC Following his time in the Intercosmos program, Tamayo became director of international affairs in the Cuban armed forces. He also is a deputy in the Cuban National Assembly
Tamayo and Romanenko conducted experiments in an attempt to find what caused space adaptation syndrome (SAS), and perhaps even find a cure, and on the crystallisation of sucrose in microgravity, for the benefit of Cuba's sugar industry. The SAS experiment involved wearing special adjustable shoes for six hours every day that placed a load on the arch of the foot. After 124 orbits of the Earth (lasting 7 days, 20 hours and 43 minutes,) Tamayo and Romanenko landed 180 km (110 mi) from Dzhezkazgan.
The landing was risky, as it was during the night.
Following his time in the Intercosmos program, Tamayo was made Director of the Military Patriotic Educational Society known as Sociedad de Educación Patriótico-Militar "SEPMI". After his promotion to brigadier general, he became Director of International Affairs in the Cuban armed forces.
Since 1980, he has been a Deputy in the Cuban National Assembly, representing his home region of Guantánamo Province.
He has been honored by the Cuban Government for being the first Cuban, the first Caribbean, and the first Latin American to go into orbit. He was awarded the titles of Hero of the Republic of Cuba and the Order of Playa Girón. He also is a recipient of the Hero of the Soviet Union award.
Tamayo is married and has two daughters and a son.
His space suit is preserved at the Museum of the Revolution in Havana.