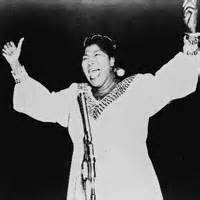 January 27, 1972 Mahalia Jackson, the Queen of Gospel Music, died. Jackson was born October 26, 1911 in New Orleans, Louisiana. In 1927, she moved to Chicago, Illinois where she met Thomas A. Dorsey, known as the Father of Gospel Music, and began a 14 year touring association. In 1948, Jackson recorded "Move On Up A Little Higher," which sold eight million copies and in 1998 was inducted into the Grammy Hall of Fame as a recording of "qualitative or historical significance." The success of that recording rocketed Jackson to fame in the United States and Europe.
Jackson went on to record many other successful songs, including "Walk With Me" (1949), "The Lord's Prayer" (1950), and "Nobody Knows" (1954). In 1963, Jackson sang at the March on Washington for Jobs and Freedom. She published her autobiography, "Moving On Up," in 1966. Jackson is widely regarded as the greatest gospel singer of all time. She won the Grammy Award for Best Gospel or Other Religious Recording in 1961 for "Everytime I Feel the Spirit" and in 1962 for "Great Songs of Love and Faith." Jackson was posthumously awarded the Grammy Award for Best Soul Gospel Performance in 1977 for "How I Got Over." Jackson was posthumously awarded a Grammy Lifetime Achievement Award in 1972, inducted into the Gospel Music Hall of Fame in 1978, and inducted into the Rock and Roll Hall of Fame in 1997. In 1998, the United States Postal Service issued a commemorative postage stamp in her honor.
A number of biographies of Jackson have been written, including "Mahalia Jackson: Queen of Gospel Song" (1974) and "Got to Tell It: Mahalia Jackson, Queen of Gospel" (1992).