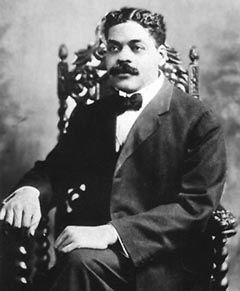 January 24, 1874 Arturo Alfonso Schomburg, historian, writer, and activist, was born in Santurce, Puerto Rico. While he was in grade school, one of his teachers claimed that blacks had no history, heroes, or accomplishments. This inspired Schomburg to prove him wrong. Schomburg was educated at St. Thomas College in the Virgin Islands where he studied Negro literature. He immigrated to New York City in 1891 and in 1896 began teaching Spanish.
In 1911, Schomburg co-founded the Negro Society for Historical Research and he later became president of the American Negro Academy. In 1925, Schomburg published his widely read and influential essay "The Negro Digs Up His Past." In 1928, the New York Public Library system purchased his collection of literature, art, and other materials and appointed him curator of the Schomburg Collection of Negro Literature and Art (later renamed the Arthur Schomburg Center for Research in Black Culture).
Schomburg died June 8, 1938 and his name is enshrined in the Ring of Genealogy at the Charles H. Wright Museum of African American History in Detroit, Michigan. Schomburg's biography, "Arthur Alfonse Schomburg: Black Bibliophile & Collector," was published in 1989.