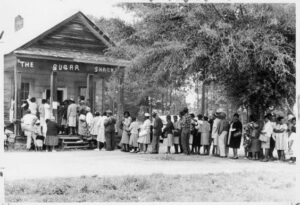 1964 – 24th Amendment
The 24th Amendment to the US Constitution is ratified. It abolishes poll tax, which was used as a means of preventing african americans from voting
In the United States, payment of a poll tax was a prerequisite to the registration for voting in a number of states until 1966. The tax emerged in some states of the United States in the late 19th century as part of the Jim Crow laws. After the right to vote was extended to all races by the enactment of the Fifteenth Amendment to the United States Constitution, a number of states enacted poll tax laws as a device for restricting voting rights.
These laws often included a grandfather clause, which allowed any adult male whose father or grandfather had voted in a specific year prior to the abolition of slavery to vote without paying the tax. These laws, along with unfairly implemented literacy tests and extra-legal intimidation,] achieved the desired effect of disenfranchising African-American and Native American voters, as well as poor whites.
Proof of payment of a poll tax was a prerequisite to voter registration in Florida, Alabama, Tennessee, Arkansas, Louisiana, Mississippi, Georgia (1877), North and South Carolina, Virginia (until 1882 and again from 1902 with its new constitution), and Texas (1902). The Texas poll tax "required, otherwise eligible voters to pay between $1.50 and $1.75 to register to vote which was a lot of money at the time, and a big barrier to the working classes and poor." While Georgia created a cumulative poll tax requirement in 1877: men of any race 21 to 60 years of age had to pay a sum of money for every year from the time they had turned 21, or from the time that the law took effect.
The poll tax requirements applied to whites as well as blacks, and also adversely affected poor citizens. The laws that allowed the poll tax did not specify a certain group of people. This meant that anyone, including white women could also be discriminated against when they went to vote. One example is in Alabama where white women were discriminated against and then organized to secure their right to vote. One group of women that did this was Women's Joint Legislative Council of Alabama (WJLC). African American women also organized in groups against being denied voting rights.
One African American woman sued the county with the help of the NAACP. She sued for her right to vote as she was stopped from even registering to vote. As a result of her suing the county the mailman did not deliver her mail for quite some time. Many states required payment of the tax at a time separate from the election, and then required voters to bring receipts with them to the polls. If they could not locate such receipts, they could not vote. In addition, many states surrounded registration and voting with complex record-keeping requirements. These were particularly difficult for sharecropper and tenant farmers to comply with, as they moved frequently.
The poll tax was sometimes used alone or together with a literacy qualification. In a kind of grandfather clause, North Carolina in 1900 exempted from the poll tax those men entitled to vote as of January 1, 1867. This excluded all blacks, who did not then have suffrage.
Although largely associated with states of the former Confederacy, poll taxes were also in place in some northern and western states. For instance, California had a poll tax until 1914 when it was abolished through a popular referendum