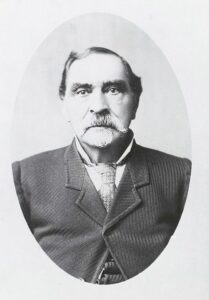 Barney Ford was an escaped slave who became a wealthy Colorado businessman and civil-rights pioneer. He's a member of the Colorado Black Hall of Fame, the Colorado Business Hall of Fame, and has a stained-glass portrait in the House Chamber of the Colorado State Capitol.
Ford was born in Virginia in 1822 to a white plantation owner and a slave woman named Phoebe. He taught himself to read and write with the help of his mother. Ford was hired out as a teenager to work on a Mississippi riverboat, which he escaped from in 1848 simply by walking off the boat when it was docked at Quincy, Illinois.
Aided by members of the Underground Railroad, he made his way to Chicago. He took his middle and last names from a steam locomotive he saw there, Lancelot Ford. He made his home in Chicago, where he became a barber and met his wife, Julia Lyoni. They were married in 1849.
In 1851 the Ford decided to prospect for gold in California, traveling with his wife from New York City by ship around Cape Horn, since it could have been dangerous for a runaway slave to travel overland. When they reached Nicaragua, he stopped there, opening the United States Hotel and Restaurant. His business proved to be a success, but his hotel was destroyed during a civil war in Nicaragua. Ford returned to Chicago, running a livery stable which also served as an Underground Railroad station.
In 1860, Ford again tried to seek gold, this time in Colorado. However, he discovered that as an African American he was not allowed to stake a claim. Instead, he went to Denver, where he opened a barbershop, restaurant, and several hotels, including the Inter-Ocean Hotels in Denver and Cheyenne, Wyoming. The building that housed his People's Restaurant stands at 1514 Blake Street and is now called the Barney L. Ford Building.
By the 1870s, Ford had become one of the wealthiest men in Colorado. He and a friend, Henry O. Wagoner, founded a school for African Americans.
In 1882, Ford moved to Breckenridge, Colorado, where they built a home on a city block that he owned. His home has been restored and is now the Barney Ford House Museum, though none of the furnishings now into it belonged to the Fords.
Ford and his wife returned to Denver in 1890, where Barney Ford died in 1902.
When Colorado sought admission as a state in 1865, Ford went to Washington, D.C. to lobby against it, since the proposed state constitution barred African Americans from voting. He fought for the Fifteenth Amendment to the United States Constitution, which would give African Americans the right to vote. After it was passed in 1870, he gave his support statehood, and Colorado became a state in 1876.
Barney Ford's contributions to Colorado are honored by a stained-glass window in the State Capitol, as well as an elementary school named for him in Denver. A hill in Breckenridge where Ford had staked a mining claim, only to be cheated out of it, had long been called Nigger Hill. In 1964, it was then renamed Barney Ford Hill.