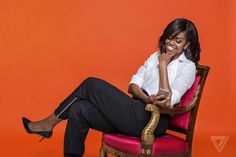 Today in1964, Michelle LaVaughn Robinson Obama, the first African American First Lady of the United States, was born in Chicago, Illinois and earned her Bachelor of Arts degree cum laude from Princeton University in 1985 and her Juris Doctorate degree from Harvard University Law School in 1988. While at Harvard, she participated in demonstrations advocating the hiring of minority professors and after earning her degrees, she held positions in the Chicago city government and in 1993 became executive director of the Chicago office of Public Allies, a non-profit encouraging young people to work on social issues, and where she set fundraising records for the organization.
In 2002, Obama began working for the University of Chicago Hospitals and in 2005 was appointed vice president for community and external affairs. As first lady, Obama has focused on reducing childhood obesity. She is married to the 44th President of the United States, Barack Obama, and is the first African-American First Lady. Raised on the South Side of Chicago, Illinois, and spent her early legal career working at the law firm Sidley Austin, where she met her husband.
Afterward she worked as the Associate Dean of Student Services at the University of Chicago and the Vice President for Community and External Affairs of the University of Chicago Medical Center. Barack and Michelle married in 1992 and have two daughters.
Throughout Barack Obamas' presidential bid in 2007 and 2008 she campaigned for him, delivering a keynote address at the 2008 Democratic National Convention. Michelle returned to speak at the 2012 Democratic National Convention, and again during the 2016 Democratic National Convention in Philadelphia, where she delivered a speech in support of the Democratic presidential nominee, and fellow First Lady, Hillary Clinton.
Michelle LaVaughn Robinson was born on January 17, 1964, in Chicago, Illinois, to Fraser Robinson III, a city water plant employee and Democratic precinct captain, and Marian Shields Robinson, a secretary at Spiegel's catalog store. Her mother was a full-time homemaker until Michelle entered high school.
The Robinson and Shields families trace their roots to pre-Civil War African Americans in the American South. On her father's side, she is descended from the Gullah people of South Carolina's Low Country region. Her paternal great-great grandfather, Jim Robinson, was a slave on Friendfield Plantation in South Carolina, the state where some of her paternal family still resides. Her grandfather Fraser Robinson, Jr. built his own house in South Carolina. He and his wife LaVaughn (née Johnson) returned to the Low Country after retirement.
Among her maternal ancestors was her great-great-great-grandmother, Melvinia Shields, a slave on Henry Walls Shields' 200-acre farm in Clayton County, Georgia. Melvinia's first son, Dolphus T. Shields, was biracial and born into slavery about 1860. Based on DNA and other evidence, in 2012 researchers said his father was likely 20-year-old Charles Marion Shields, son of her master. Melvinia did not talk to relatives about Dolphus' father. Dolphus Shields moved to Birmingham, Alabama after the Civil War, and some of his children migrated to Cleveland, Ohio and Chicago.
All four of her grandparents had multiracial ancestors, reflecting the complex history of the U.S., yer her extended family has said that people did not talk about the era of slavery when they were growing up. Her distant ancestry includes Irish and other European roots. In addition, a paternal first cousin once-removed is the African-American Jewish Rabbi Capers Funnye, son of her grandfather's sister.
Robinson grew up in a two-story bungalow on Euclid Avenue in Chicago's South Shore community area. Her parents rented a small apartment on the second floor from her great-aunt, who lived downstairs. She was raised in what she describes as a "conventional" home, with "the mother at home, the father works, and you have dinner around the table." Her elementary school was down the street. They enjoyed playing games such as Monopoly, reading, and frequently saw extended family on both sides. She played piano, learning from her great-aunt who was a piano teacher. The Robinsons attended services at nearby South Shore United Methodist Church. They used to vacation in a rustic cabin in White Cloud, Michigan. She and her 21-month older brother, Craig, skipped the second grade.
Her father suffered from multiple sclerosis which had a profound emotional effect on her as she was growing up. She was determined to stay out of trouble and be a good student, which was what her father wanted for her. By sixth grade, Michelle joined a gifted class at Bryn Mawr Elementary School (later renamed Bouchet Academy). She attended Whitney Young High School, Chicago's first magnet high school, established as a selective enrollment school, where she was a classmate of Jesse Jackson's daughter Santita.
The round-trip commute from the Robinsons' South Side home to the Near West Side, where the school was located, took three hours. She recalled being fearful of how others would perceive her, but disregarded any negativity around her and used it "to fuel me, to keep me going." She recalled experiencing gender discrimination growing up, saying, for example, that rather than asking her for her opinion on a given subject, people commonly tended to ask what her older brother thought. She was on the honor roll for four years, took advanced placement classes, was a member of the National Honor Society, and served as student council treasurer. She graduated in 1981 as the salutatorian of her class.
She was inspired to follow her brother to Princeton University, where he graduated in 1983, after which he went on to become a basketball coach at Oregon State University and Brown University. She recalls that some of her teachers in high school tried to dissuade her from applying, that she had been told she was "setting my sights too high". She believed that her brother's status as an alumnus may have helped her during the admission process, but she was resolved to demonstrate her own worthiness. She acknowledges that she was overwhelmed when first arriving in first year, attributing this to the fact that neither of her parents had graduated from college, and that she had never spent time on a college campus.
The mother of a white roommate reportedly unsuccessfully tried to get her daughter moved because of Michelle's race. She recalls her time at Princeton being the first time she was made more aware of her ethnicity and that despite the willingness of her classmates and teachers to want to understand her, she still felt "like a visitor on campus." "I remember being shocked," she says, "by college students who drove BMWs. I didn't even know parents who drove BMWs."
While at Princeton, she got involved with the Third World Center (now known as the Carl A. Fields Center), an academic and cultural group that supported minority students, running their day care center, which also included after school tutoring. She challenged the teaching methodology for French because she felt that it should be more conversational. As part of her requirements for graduation, she wrote a thesis titled Princeton-Educated Blacks and the Black Community.
She researched her thesis by sending a questionnaire to African American graduates, requesting they specify when and how comfortable they were with their race prior to their enrollment at Princeton and how they felt about it when they were a student and since then. Of the 400 alumni to whom she sent the survey, fewer than 90 responded, and her findings did not support her hope that the black alumni would still identify with the African American community, even though they had attended an elite university with all of the advantages that accrues to its graduates. She majored in sociology and minored in African American studies, graduating cum laude with a Bachelor of Arts in 1985.
Robinson went on to earn her Juris Doctor (J.D.) degree from Harvard Law School in 1988. By the time she applied for Harvard Law, biographer Bond wrote, her confidence had grown; "This time around, there was no doubt in her mind that she had earned her place". Her faculty mentor at Harvard Law was Charles Ogletree, who has said that she had answered the question that had plagued her throughout Princeton by the time she arrived at Harvard Law, of whether she would remain the product of her parents or keep the identity she had acquired at Princeton, believing that she concluded she could be "both brilliant and black."
At Harvard she participated in demonstrations advocating the hiring of professors who were members of minorities and worked for the Harvard Legal Aid Bureau, assisting low-income tenants cases. She is the third First Lady with a postgraduate degree, after her two immediate predecessors, Hillary Clinton and Laura Bush. She would later say her education gave her opportunities beyond what she had ever imagined. In July 2008, she accepted the invitation to become an honorary member of the 100-year-old black sorority Alpha Kappa Alpha, which had no active undergraduate chapter at Princeton when she attended.
Her father, Fraser C. Robinson III, died from complications from his illness in March 1991. She would later say that although he was the "hole in my heart" and "loss in my scar", the memory of her father has motivated her each day since. Her friend Suzanne Alele died from cancer around this time as well, Obama later telling Katie Couric that the loss made her think of her contributions toward society and how well she was influencing the world from her law firm. This was seen as a turning point for Michelle.
Michelle met Barack Obama when they were among the few African Americans at their law firm, Sidley Austin LLP (she has sometimes said only two, although others have pointed out there were others in different departments), and she was assigned to mentor him while he was a summer associate. Their relationship started with a business lunch and then a community organization meeting where he first impressed her.
Before meeting Obama, Michelle had told her mother she would focus solely on her career. The couple's first date was to the Spike Lee movie Do the Right Thing. Barack Obama has opined that the two had an "opposites attract" scenario in their interest for each other initially since Michelle had stability through her two-parent home while he was "adventurous". They married in October 1992, and have two daughters, Malia Ann (born 1998) and Natasha (known as Sasha, born 2001).
Michelle Obama's mother, Marian Robinson was quoted by Washington Post correspondent Peter Slevin in his book, Michelle Obama: A Life in an interview with WTTW's Chicago Tonight in which Mrs Robinson addressed the issue of race. She told the interviewer that Barack Obama's mixed-race heritage did not worry her; "'That didn't concern me as much as had he been completely white."
After his election to the U.S. Senate, the Obama family continued to live on Chicago's South Side, choosing to remain there rather than moving to Washington, D.C. Throughout her husband's 2008 campaign for US President, she made a "commitment to be away overnight only once a week – to campaign only two days a week and be home by the end of the second day" for their two daughters.
She once requested that her then-fiancé meet her prospective boss, Valerie Jarrett, when considering her first career move; Jarrett is now one of her husband's closest advisors. The marital relationship has had its ebbs and flows; the combination of an evolving family life and beginning political career led to many arguments about balancing work and family. Barack Obama wrote in his second book, The Audacity of Hope: Thoughts on Reclaiming the American Dream, that "Tired and stressed, we had little time for conversation, much less romance." However, despite their family obligations and careers, they continued to attempt to schedule date nights while they lived in Chicago.
The Obamas' daughters attended the University of Chicago Laboratory Schools, a private school. As a member of the school's board, Michelle fought to maintain diversity in the school when other board members connected with the University of Chicago tried to reserve more slots for children of the university faculty. This resulted in a plan to expand the school. Malia and Sasha now attend Sidwell Friends School in Washington, after also considering Georgetown Day School. Michelle stated in an interview on The Ellen DeGeneres Show that they do not intend to have any more children. The Obamas have received advice from past first ladies Laura Bush, Rosalynn Carter and Hillary Clinton about raising children in the White House. Marian Robinson, Michelle's mother, has moved into the White House to assist with child care.
Michelle Obama was raised United Methodist and joined the Trinity United Church of Christ, where she and Barack Obama married, performed by Jeremiah Wright. On May 31, 2008, Barack and Michelle Obama announced that they had withdrawn their membership in Trinity United Church of Christ stating: "Our relations with Trinity have been strained by the divisive statements of Reverend Wright, which sharply conflict with our own views."
The Obama family has attended several different Protestant churches since moving to Washington D.C. in 2009, including Shiloh Baptist Church and St. John's Episcopal Church. At the 49th African Methodist Episcopal Church's general conference, Michelle Obama encouraged the attendees to advocate for political awareness, saying, "To anyone who says that church is no place to talk about these issues, you tell them there is no place better – no place better, because ultimately, these are not just political issues – they are moral issues, they're issues that have to do with human dignity and human potential, and the future we want for our kids and our grandkids."
Following law school, she was an associate at the Chicago office of the law firm Sidley & Austin, where she first met her future husband. At the firm, she worked on marketing and intellectual property. She continues to hold her law license, but as she no longer needs it for her work, it has been on a voluntary inactive status since 1993.
In 1991, she held public sector positions
in the Chicago city government as an Assistant to the Mayor, and as Assistant Commissioner of Planning and Development. In 1993, she became Executive Director for the Chicago office of Public Allies, a non-profit organization encouraging young people to work on social issues in nonprofit groups and government agencies. She worked there nearly four years and set fundraising records for the organization that still stood 12 years after she left.
In 1996, Obama served as the Associate Dean of Student Services at the University of Chicago, where she developed the University's Community Service Center. In 2002, she began working for the University of Chicago Hospitals, first as executive director for community affairs and, beginning May 2005, as Vice President for Community and External Affairs.
She continued to hold the University of Chicago Hospitals position during the primary campaign, but cut back to part-time in order to spend time with her daughters as well as work for her husband's election; she subsequently took a leave of absence from her job. According to the couple's 2006 income tax return, her salary was $273,618 from the University of Chicago Hospitals, while her husband had a salary of $157,082 from the United States Senate. The Obamas' total income, however, was $991,296, which included $51,200 she earned as a member of the board of directors of TreeHouse Foods, and investments and royalties from his books. Obama stated that she had never been happier in her life prior to working "to build Public Allies".
Obama served as a salaried board member of TreeHouse Foods, Inc. (NYSE: THS), a major Wal-Mart supplier with which she cut ties immediately after her husband made comments critical of Wal-Mart at an AFL-CIO forum in Trenton, New Jersey, on May 14, 2007. She also served on the board of directors of the Chicago Council on Global Affairs.