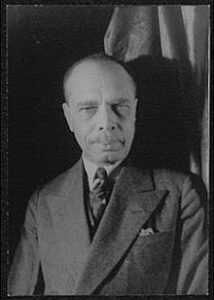 James Weldon Johnson
As a precursor, participant, and historian of the Harlem Renaissance, James Weldon Johnson had as much to do with the rise of that cultural movement as any one person.. Indeed, he was the epitome of the classic Renaissance man himself–poet, composer, author, government official, teacher, and influential civil rights activist.
Johnson's mother sparked his early interest in drawing, literature, and music. Consequently, Johnson, as lyricist, and his brother, Rosamond, as composer, wrote and staged musical comedies and light operas from 1901 to 1906, producing such enduring songs as "Since You Went Away" and "Lift Every Voice and Sing," now widely adopted as the African-American national anthem.. This remarkably versatile man crowned his contributions to society by becoming field secretary for the fledgling NAACP in 1916. As a social thinker, Johnson was an early advocate of Booker T. Washington's self-help philosophy. But he later supported thee NAACP's frontal attacks on segregation and discrimination, organizing the 1917 silent protest parade in New York City that condemned the massacre of African-Americans in east St. Louis, and fighting for passage of the 1921 Dyer Anti-Lynching bill, during 144 years of NAACP service.. After becoming the first African-American man to be admitted to the bar (in 1897) too practice law in Jacksonville, Florida, he moved to New York City to pursue a theatrical career. Campaigning for Teddy Roosevelt's successful presidential bid in 19044 earned Johnson an appointment as U.S. Consul to Venezuela (1906-8) and Nicaragua (1909-12). In 1913 he returned to New York and plunged into cultural life there by writing God's Trombones: Seven Negro Sermons in Verse and The Book of American Negro Poetry. Johnson was a literature instructor at Fisk University in Tennessee when he died in an automobile crash in 1938.