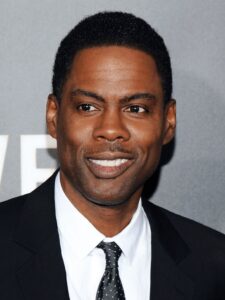 Christopher Julius Rock III was born February 7, 1965, an American comedian, actor, screenwriter, producer, and director in Andrews, South Carolina. After working as a standup comic and appearing in small film roles, Rock came to wider prominence as a cast member of Saturday Night Live in the early 1990s.
He went on to more prominent film appearances, with starring roles in Down to Earth (2001), Head of State (2003), the Madagascar film series (2005–2012), Grown Ups (2010), its sequel Grown Ups 2 (2013), Top Five (2014), and a series of acclaimed comedy specials for HBO. He developed, wrote, and narrated the sitcom Everybody Hates Chris (2005–2009).
Rock hosted the 77th Academy Awards in 2005 and the 88th in 2016. He has won four Emmy Awards and three Grammy Awards. He was voted the fifth-greatest stand-up comedian in a poll conducted by Comedy Central. He was also voted in the United Kingdom as the ninth-greatest stand-up comic on Channel 4's 100 Greatest Stand-Ups in 2007, and again in the updated 2010 list as the eighth-greatest stand-up comic.
Shortly after his birth, his parents moved to Crown Heights, Brooklyn, New York. A few years later, they relocated and settled in the working-class area of Bedford–Stuyvesant, Brooklyn. His mother, Rosalie (née Tingman), was a teacher and social worker for the mentally handicapped; his father, Christopher Julius Rock II, was a truck driver and newspaper deliveryman. Julius died in 1988 after ulcer surgery.
Chris's younger brothers, Tony, Kenny, and Jordan, are also in the entertainment business. His older half-brother, Charles, died in 2006 after a long struggle with alcoholism. Rock has said that he was influenced by the performing style of his paternal grandfather, Allen Rock, a preacher.
Rock was bused to schools in predominately white neighborhoods of Brooklyn, where he endured bullying and beatings from white students. As he got older, the bullying became worse and Rock's parents pulled him out of James Madison High School. He dropped out of high school altogether, but he later earned a GED. Rock then worked menial jobs at various fast-food restaurants.
Rock began doing stand-up comedy in 1984 in New York City's Catch a Rising Star. He slowly rose up the ranks of the comedy circuit in addition to earning bit roles in the film I'm Gonna Git You Sucka and the TV series Miami Vice. Upon seeing his act at a nightclub, Eddie Murphy befriended and mentored the aspiring comic. Murphy gave Rock his first film role in Beverly Hills Cop II.