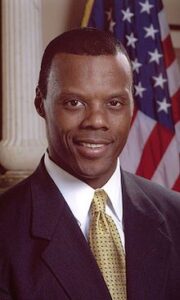 Julius Caesar "J. C." Watts Jr. (born November 18, 1957) is an American politician from Oklahoma who was a college football quarterback for the Oklahoma Sooners and later played professionally in the Canadian Football League. Watts served in the U.S. House of Representatives from 1995 to 2003 as a Republican, representing Oklahoma's 4th Congressional District.
Watts was born and raised in Eufaula, Oklahoma, in a rural impoverished neighborhood. After being one of the first children to attend an integrated elementary school, he became a high school quarterback and gained a football scholarship to the University of Oklahoma. He graduated from college in 1981 with a degree in journalism and became a football player in the Canadian Football League until his retirement in 1986.
Watts became a Baptist minister and was elected in 1990 to the Oklahoma Corporation Commission as the first African-American in Oklahoma to win statewide office. He successfully ran for Congress in 1994 and was re-elected to three additional terms with increasing vote margins. Watts delivered the Republican response to Bill Clinton's 1997 State of the Union address and was elected Chair of the House Republican Conference in 1998. He retired in 2003 and turned to lobbying and business work, also occasionally serving as a political commentator.
Watts was born in Eufaula in McIntosh County, Oklahoma to J. C. "Buddy" Watts, Sr., and Helen Watts (d. 1992). His father was a Baptist minister, cattle trader, the first black police officer in Eufaula, and a member of the Eufaula City Council. His mother was a homemaker. Watts is the fifth of six children and grew up in a poor rural African-American neighborhood. He was one of two black children who integrated the Jefferson Davis Elementary School in Eufaula and the first black quarterback at Eufaula High School.
While in high school, Watts fathered a daughter with a white woman, causing a scandal. Their families decided against an interracial marriage because of contemporary racial attitudes and Watts' family provided for the child until she could be adopted by Watts' uncle, Wade Watts, a Baptist minister, civil rights leader and head of the Oklahoma division of the NAACP.
He graduated from high school in 1976 and attended the University of Oklahoma on a football scholarship. In 1977, Watts married Frankie Jones, an African-American woman with whom he had fathered a second daughter during high school.
Watts began his college football career as the second-string quarterback and left college twice, but his father convinced him to return, and Watts became starting quarterback of the Oklahoma Sooners in 1979 and led them to consecutive Orange Bowl victories. Watts graduated from college in 1981 with a Bachelor of Arts in journalism. Watts sought entrance in the National Football League through the New York Jets, but instead entered the Canadian Football League and played for the Ottawa Rough Riders, whom he helped reach the 1981 Grey Cup game. He stayed with the team from 1981 to 1985 and played a season for the Toronto Argonauts before retiring in 1986.
Watts returned to Oklahoma and became a youth minister in Del City and was ordained as a Baptist minister in 1993. He is a teetotaler. Watts opened a highway construction company and later cited discontent with government regulation of his business as reason to become a candidate for public office. Watts' family was affiliated with the Democratic Party and his father and uncle Wade Watts were active in the party, but it did not help Watts when he ran for public office and he changed his party affiliation in 1989, months before his first statewide race.
Watts later stated he had first considered changing parties when he covered the 1980 U.S. Senate campaign of Republican Don Nickles. Watts' father and uncle continued to strongly oppose the Republican party, but supported him. Watts won election to the Oklahoma Corporation Commission in November 1990 for a six-year term as the first African-American elected to statewide office in Oklahoma. He served as a member of the Commission from 1990 to 1995 and as its chairman from 1993 to 1995.