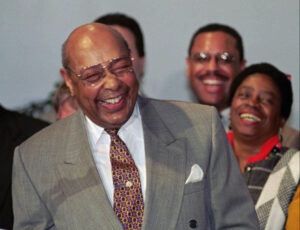 February 23, 1925 Louis Stokes, former member of the United States House of Representatives, was born in Cleveland, Ohio. Stokes served in the United States Army from 1943 to 1946, graduated from Case Western Reserve University in 1948, and earned his Juris Doctorate degree in 1953 from Cleveland-Marshall College of Law. In 1968, he was elected to the U.S. House of Representatives where he served until 1998.
During his time in Congress, he chaired several important committees, including the House Select Committee on Assassinations, the Ethics Committee, and the House Intelligence Committee. His work in the area of health led to his appointment to the Pepper Commission on Comprehensive Health Care. After leaving Congress, Stokes became a partner in a global law firm.
Many buildings around the country are named in honor of Stokes, including Howard University's library, the Cleveland Public Library's main building extension, and the Louis Stokes Cleveland Department of Veteran Affairs Medical Center. In September, 2007, the Louis Stokes Museum opened in Cleveland.