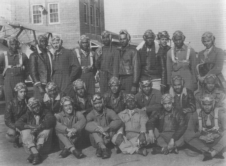 The Tuskegee Airmen were Black servicemen of the U. S. Army Air Forces who trained at Tuskegee Army Air Field in Alabama during World War II. They constituted the first African-American flying unit in the U. S. military. In response to pressure from the National Association for the Advancement of Colored People (NAACP), the Black press, and others, the War Department in January 1941 formed the all-Black 99th Pursuit Squadron of the U. S. Army Air Corps (later the U. S. Army Air Forces), to be trained using single-engine planes at the segregated Tuskegee Army Air Field at Tuskegee, Ala.
The base opened on July 19, and the first class graduated the following March. Lieutenant Colonel Benjamin Oliver Davis, Jr., became the squadron's commander. The Tuskegee Airmen received further training in French Morocco, before their first mission, on June 2, 1943, a strafing attack on Pantelleria Island, an Italian island in the Mediterranean Sea. Later that year the Army activated three more squadrons that, joined in 1944 by the 99th, constituted the 332nd Fighter Group. It fought in the European theatre and was noted as the Army Air Forces' only escort group that did not lose a bomber to enemy planes.
The Tuskegee airfield program expanded to train pilots and crew to operate two-engine B-25 medium bombers. These men became part of the second Black flying group, the 477th Bombardment Group. Shortages of crew-members, technicians, and equipment troubled the 477th, and before it could be deployed overseas, World War II ended. Altogether 992 pilots graduated from the Tuskegee airfield courses; they flew 1,578 missions and 15,533 sorties, destroyed 261 enemy aircraft, and won over 850 medals. The American army's 100th pursuit squadron a group of Black aviators fought valiantly over Britain and other European countries.
Tuskegee Institutes Daniel "Chappie" James Memorial Hall houses the Black Wings aviation exhibit, which focuses on the Tuskegee Airmen, who trained near Tuskegee during World War II.
Reference:
The Encyclopedia Britannica, Fifteenth Edition.