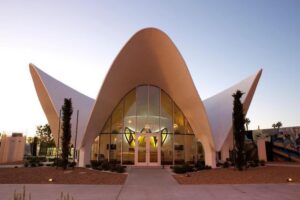 Paul Revere Williams, FAIA (February 18, 1894 – January 23, 1980) was an American architect based in Los Angeles, California. He practiced largely in Southern California and designed the homes of numerous celebrities, including Frank Sinatra, Lucille Ball and Desi Arnaz, Lon Chaney, Barbara Stanwyck and Charles Correll. He also designed many public and private buildings.
Orphaned at four years of age, Williams was the only African American student in his elementary school. He studied at the Los Angeles School of Art and Design and at the Los Angeles branch of the New York Beaux-Arts Institute of Design Atelier, subsequently working as a landscape architect. He went on to attend the University of Southern California, designing several residential buildings while still a student there. Williams became a certified architect in 1921, and the first certified African-American architect west of the Mississippi.
He married Della Mae Givens on June 27, 1917, at the First AME Church in Los Angeles. They had three children: Paul Revere Williams, Jr. (born and died June 30, 1925, buried in Evergreen Cemetery, Los Angeles); Marilyn Frances Williams (born December 25, 1926); and Norma Lucille Williams (born September 18, 1928).
Williams won an architectural competition at age 25, and three years later opened his own office. Known as an outstanding draftsman, he perfected the skill of rendering drawings "upside down." This skill was developed so that his white clients (who might have been uncomfortable sitting next to a black architect) could see the drawings rendered right side up across the table from him.
Struggling to gain attention, he served on the first Los Angeles City Planning Commission in 1920.
From 1921 through 1924, Williams worked for Los Angeles architect John C. Austin, eventually becoming chief draftsman, before establishing his own office.
In 1923, Williams became the first African-American member of the American Institute of Architects (AIA).
In 1939, he won the AIA Award of Merit for his design of the MCA Building in Los Angeles (now headquarters of the Paradigm Talent Agency). A. Quincy Jones (1913–79) was an architect who is claimed to have hired Williams and later collaborated with him on projects in Palm Springs, including the Palm Springs Tennis Club (1947) and the Town & Country (1948) and Romanoff's on the Rocks (1948) restaurants.
During World War II, Williams worked for the Navy Department as an architect.
In 1951, Williams won the Omega Psi Phi Fraternity, Inc., Man of the Year award and in 1953 he received the Spingarn Medal from the NAACP for his outstanding contributions as an architect and member of the African American community.
Williams also received honorary doctorates from Lincoln University of Missouri (doctor of science, 1941), Howard University (doctor of architecture, 1952), and the Tuskegee Institute (doctor of fine arts, 1956).
In 1956, he won an award for service, from Wisdom magazine, for "contributions to knowledge and distinguished service to mankind."
In 1957, he became the first black member to be inducted into the AIA's College of Fellows. An April 2, 1957 letter from the Executive Secretary of AIA, offered Williams the honor of Fellowship and membership in the College of Fellows "for your notable contribution in Public Service."
Williams designed more than 2,000 private homes, most of which were in the Hollywood Hills and the Mid-Wilshire portion of Los Angeles (including his own home in Lafayette Square, part of historic West Adams, Los Angeles, California). He also designed at least one home in the San Rafael district along with many others in Pasadena and La Cañada Flintridge. The Linda Vista Area of Pasadena has many Spanish Colonial and French Country homes of his design including many commissioned by business magnates (Chrysler Corporation) and actors.
His most famous homes were for celebrities, and he was well regarded for his mastery of various architectural styles. Modern interpretations of Tudor-revival, French Chateau, Regency, French Country, and Mediterranean architecture were all within his vernacular. One notable home, which he designed for Jay Paley in Holmby Hills, and the current residence of Barron Hilton, was used as the 'Colby mansion' in exterior scenes for The Colbys television series. Williams's client list included Frank Sinatra (the notorious pushbutton house), Bill "Bojangles" Robinson, Lon Chaney, Sr., Lucille Ball, Julie London, Tyrone Power (two houses), Barbara Stanwyck, Bert Lahr, Charles Correll, Will Hays, Zasu Pitts, and Danny Thomas.
In contrast to these splendid mansions, Williams co-designed with Hilyard Robinson the first federally funded public housing projects of the post-war period (Langston Terrace, Washington, D.C.) and later the Pueblo del Rio project in southeast Los Angeles.
Williams famously remarked upon the bitter irony of the fact that most of the homes he designed, and whose construction he oversaw, were on parcels whose deeds included segregation covenants barring blacks from purchasing them.
A number of his works are listed on the National Register of Historic Places.