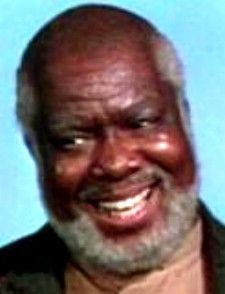 James Baskett (February 16, 1904 – July 9, 1948) was an American actor known for his portrayal of Uncle Remus, singing the song "Zip-a-Dee-Doo-Dah" in the 1946 Disney feature film Song of the South. In recognition of his warm portrayal of the famous black storyteller he was given an Honorary Academy Award, making him the first black male performer to receive an Oscar.
After abandoning his studies of pharmacology for financial reasons, James Baskett supported himself as an actor, moving from his home town of Indianapolis, Indiana to New York City, New York and joining the company of Bill Robinson, better known as Mr. Bojangles. As Jimmie Baskette, he appeared on Broadway with Louis Armstrong in the all-black musical revue Hot Chocolates in 1929, and was announced for Hummin' Sam in 1933, although it failed to open. Mr. Baskett also acted in several all-black films made in the New York area, including Harlem Is Heaven (1932) starring Bill Robinson. He went to Los Angeles, California and had a supporting role in Straight to Heaven (1939), starring Nina Mae McKinney, and bit parts in the films Revenge of the Zombies (1943) and The Heavenly Body (1944). He was invited by Freeman Gosden to join the cast of the Amos 'n' Andy radio show as lawyer Gabby Gibson, whom he portrayed from 1944 to 1948.
In 1945, he auditioned for a bit part voicing one of the animals in the new Disney feature film Song of the South (1946), based on the Uncle Remus stories by Joel Chandler Harris. Walt Disney was impressed with Baskett's talent and hired him on the spot for the lead role of Uncle Remus. Baskett was also given the voice role of Brer Fox, one of the film's animated antagonists, and even filled in as the main animated protagonist, Brer Rabbit, in one sequence. This was one of the first Hollywood portrayals of a black actor as a non-comic character in a leading role in a film meant for general audiences. Baskett was not allowed to attend the film's premiere in Atlanta, Georgia because Atlanta was racially segregated by law.
Although Baskett was occasionally criticized for accepting such a "demeaning" role, his acting was almost universally praised, and columnist Hedda Hopper was one of the many journalists who declared that he should receive an Academy Award for his work.
On March 20, 1948, Baskett received an Honorary Academy Award for his performance as Uncle Remus. He was the first African-American male actor to win an Academy Award.