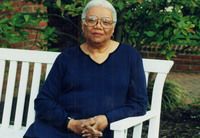 Lucille Clifton, writer and educator, died February 13, 2010. Clifton was born Thelma Lucille Sayles on June 27, 1936 in Depew, New York. She graduated from the State University of New York in 1955 and worked as a claims clerk in the New York State Division of Employment and as a literature assistant in the Office of Education in Washington, D.C.
In 1966, Clifton's poetry was included in Langston Hughes' anthology "The Poetry of The Negro." Her first collection of poetry, "Good Times," was published in 1969 and the New York Times listed it as one of the ten best books of that year. Other collections by Clifton include "An Ordinary Woman" (1974), "The Book of Light" (1993), and "Blessing the Boats: New and Selected Poems 1988 – 2000" (2000) which won the National Book Award for poetry that year.
From 1971 to 1974, she was poet-in-residence at Coppin State College and from 1979 to 1985 she was Poet Laureate of the State of Maryland. She also taught at Columbia University School of the Arts, George Washington University, and Dartmouth College. Her children's book, "Everett Anderson's Good-bye," won the 1984 Coretta Scott King Award and in 1988 she became the first author to have two books of poetry chosen as finalist for the Pulitzer Prize.
In 2007, Clifton won the Ruth Lilly Poetry Prize which honors a living U.S. poet whose "lifetime accomplishments warrant extraordinary recognition." She posthumously received the Robert Frost Medal for lifetime achievement from the Poetry Society of America in 2010. Studies about her life and writings include "Wild Blessings: The Poetry of Lucille Clifton" (2004) and "Lucille Clifton: Her Life and Letters" (2006).