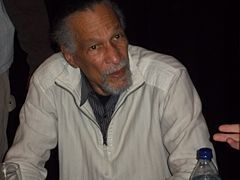 Inventor James West was born on February 10, 1931, in Prince Edward County, Virginia. Growing up he was intrigued by how things worked and enjoyed taking apart appliances. "If I had a screwdriver and a pair of pliers, anything that could be opened was in danger," West would later recollect. "I had this need to know what was inside.
Later on West took and interest in the concept of electricity. He knew he wanted to pursue his interest in science academically, though his parents were concerned about future job prospects for an African-American scientist, due to the racism and Jim Crow laws of the South. They preferred for him to become a physician. Instead he attended Temple University before working for Bell Labs.He became a recognized writer  and a professor at Johns Hopkins University with over 250 patents.
In 1960, while at Bell, West teamed up with fellow scientist Gerhard M. Sessler to develop an inexpensive, highly sensitive, compact microphone. In 1962, they finished development on the product, which relied on their invention of electret transducers. By 1968, the electret microphone was in mass production. West's and Sessler's invention became the industry standard, and today, 90 percent of all contemporary microphones—including the ones found in telephones, tape recorders, camcorders, baby monitors and hearing aids—use their technology.
Years later, West was appointed president-elect of the Acoustical Society of America in 1997 and joined the National Academy of Engineering in 1998. And both West and Sessler were inducted into the National Inventors Hall of Fame in 1999. West has also worked with initiatives to entreat women and students of color to explore and pursue careers in the fields of science and technology.