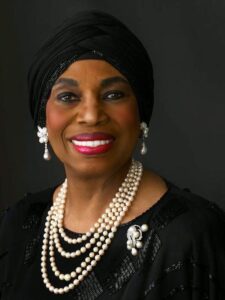 Mary Violet Leontyne Price was born on February 10, 1927, in Laurel, Mississippi, to James Anthony Price, a carpenter, and Kate Baker Price, a midwife with a beautiful singing voice. Price showed an interest in music from a young age and was encouraged by her parents. After beginning formal music training at age five, she spent much of her time singing in the choir at St. Paul Methodist Church in her hometown. When she was a child, she attended a recital by contralto Marian Anderson.
Following her time at Oak Park Vocational High School, where she was a standout pianist and member of the glee club, Price enrolled at the College of Education and Industrial Arts in Wilberforce, Ohio. She began her studies focusing on music education, but was later encouraged by faculty to switch her concentration to voice.
After graduation, Price headed to New York City to attend The Juilliard School on a full scholarship. At Juilliard, Price studied under the tutelage of her beloved vocal instructor, Florence Page Kimball. Price's beautiful lyric soprano voice landed her feature roles in many of the school's operas. After witnessing Price perform the role of Alice Ford in a student production of Giuseppe Verdi's Falstaff, composer Virgil Thomson leapt at the chance to bring her into one of his productions.
In April 1952, Leontyne Price made her Broadway debut as St. Cecilia in the revival of Thompsen's Four Saints in Three Acts. Immediately following the show's three-week engagement, she was cast in a touring production of George Gershwin's Porgy and Bess. For the next two years, Price dazzled audiences with her stunning portrayal of Bess, gaining acclaim with her flawless vocal interpretations. During her tour with the show, she married co-star William Warfield, who portrayed Porgy.
In 1955, Price starred in the NBC Opera Theatre's television production of Giacomo Puccini's Tosca. This performance led to a string of TV operas featuring the budding starlet.
In her opera stage debut at the San Francisco Opera House in 1957, Price took on the role of Madame Lidoine in Francis Poulenc's Dialogues des carmélites. The moving performance marked the commencement of her rise to fame in the serious opera community. By 1958, Price was wowing European audiences at such famous venues as the Covent Garden in England and La Scala in Milan. She had reached stardom at home as well as on an international level.
Price's debut at the New York City's Metropolitan Opera House in 1961 as Leonora in Il Trovatore was such a success, it marked the beginning of her residency as one of the opera's principal sopranos. She flourished as a prima donna at the Met, starring in such roles such as Cio-Cio-San in Madama Butterfly, Minnie in La Fanciulla del West and, perhaps most notably, as Cleopatra in Antony and Cleopatra.
Price's fame led her to be widely regarded as the first African-American singer to gain international reputation in opera, and allowed her to be selective with her roles throughout the 1970s. She chose to perform in opera productions less frequently, focusing mainly on recitals.
Price delivered her farewell performance in the titular role of Aida at the Met in 1985, which was telecast and hailed as one of the most successful operatic performances in the Met's history. In September 1964, the then 37-year-old Price was awarded the Presidential Medal of Freedom by Lyndon Johnson. Nearly 20 years later, she became a National Medal of Arts Recipient in 1985.
Throughout her career, Price's recordings have earned her numerous honors and awards, including more than a dozen Grammy Awards. Leontyne Price rose to stardom as a woman of color during a time of segregation in America and in a profession where the odds of succeeding were not in her favor because the paths to opportunities in the world of opera were limited.