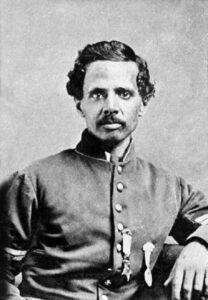 Powhatan Beaty (October 8, 1837 – December 6, 1916) was an African American soldier and actor. During the American Civil War, he served in the Union Army's 5th United States Colored Infantry Regiment throughout the Richmond–Petersburg Campaign. He received America's highest military decoration, the Medal of Honor, for taking command of his company at the Battle of Chaffin's Farm, after all officers had been killed and/or wounded.
Following the war, he became an orator and actor, appearing in amateur theater productions in his home of Cincinnati, Ohio. His most well-known stage performance was an 1884 appearance at Ford's Opera House on 9th Street in Washington, D.C., opposite Henrietta Vinton Davis.
Beaty was born into slavery on October 8, 1837, in Richmond, Virginia. He moved to Cincinnati, Ohio, in 1849, where he received an education. He gained his freedom sometime on or before April 19, 1861; the exact date is unknown and may have been before his move to Ohio. While in school, he developed an interest in theater and made his public acting debut at a school concert.
After leaving school, he was apprenticed to a black cabinet maker and eventually worked as a turner. He continued to study acting privately and received training in the field from several coaches, including James E. Murdock, a retired professional stage actor from Philadelphia.
A year after the outbreak of the Civil War, with the Confederate victory at the Battle of Richmond, Kentucky, on August 30, 1862, rumors of an impending Confederate attack on Cincinnati began to circulate. Richmond was one hundred miles to the south of Cincinnati, and no organized Union troops lay between the two cities.
An attack by Confederate Colonel John Hunt Morgan, who had led his cavalry on a raid behind Union lines in Kentucky the previous month, was also feared. On September 2, the men of Cincinnati were organized into work units to build fortifications around the city.
Although Cincinnati's African Americans were initially pressed into service at bayonet point, after the appointment of William Dickson as commander of the black troops their treatment improved significantly. Dickson promised that they would be treated fairly and kept together as a distinct unit, to be called the Black Brigade.
He then allowed them to return home to prepare for military service, with orders to report the next morning for duty. About four hundred men were released that day, September 4, and the next morning about seven hundred reported for duty. Among those men was Beaty, who served in Company Number 1 of the Brigade's 3rd Regiment.
Despite the danger of Confederate attack, the unarmed unit was assigned to build defenses near the Licking River in Kentucky, far in advance of the Union lines. For the next fifteen days, they cleared forests, constructed forts, magazines and roads, and dug trenches and rifle pits. The brigade was disbanded on September 20, the threat of attack having receded.