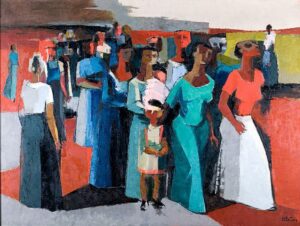 Charles Henry Alston was born in Charlotte, North Carolina, on November 28, 1907. He was the youngest of five children. Only three survived past infancy: a sister, a brothers and Charles. His father was born into slavery in 1851 in Pittsboro, North Carolina; after the Civil War, he graduated from St. Augustine's College and became a prominent minister and founder of St. Michael's Episcopal Church.
He was described as a "race man": an African American who dedicated his skills to the furtherance of the black race. Reverend Alston met his wife when she was a student at his school. Charles was nicknamed "Spinky" by his father, and kept the nickname as an adult. In 1910, when Charles was three, his father died suddenly of a cerebral hemorrhage. Locals described him in admiration as the "Booker T. Washington of Charlotte".
In 1913 Anna Alston married Harry Bearden. Through the marriage, the future artist Romare Bearden became Charles' cousin. The two Bearden families lived across the street from each other; the friendship between Romare and Charles would last a lifetime. As a child Alston was inspired by his older brother Wendell's drawings of trains and cars, which the young artist copied. Charles also played with clay, creating a sculpture of North Carolina.
As an adult he reflected on his memories of sculpting with clay as a child: "I'd get buckets of it and put it through strainers and make things out of it. I think that's the first art experience I remember, making things." His mother was a skilled embroiderer and took up painting at the age of 75. His father was also good at drawing, wooing Alston's mother with small sketches in the medians of letters he wrote her.
In 1915 the family moved to New York, as many African-American families did during the Great Migration. Alston's step-father, Henry Bearden, left before his wife and children to secure a job overseeing elevator operations and the newsstand staff at the Bretton Hotel in the Upper West Side. The family lived in Harlem and was considered middle-class.
During the Great Depression, the people of Harlem suffered economically. The "stoic strength" seen within the community was later expressed in Charles' fine art. At Public School 179 in Manhattan, the boy's artistic abilities were recognized and he was asked to draw all of the school posters during his years there.
Alston graduated from DeWitt Clinton High School, where he was nominated for academic excellence and was the art editor of the school's magazine, The Magpie. He was a member of the Arista: National Honor Society and also studied drawing and anatomy at the Saturday school of the National Academy of Art.
In high school he was given his first oil paints and learned about his aunt Bessye Bearden's art salons, which stars like Duke Ellington and Langston Hughes attended. After graduating in 1925, he attended Columbia University, turning down a scholarship to the Yale School of Fine Arts.