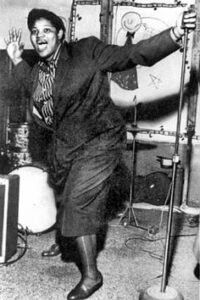 Willie Mae "Big Mama" Thornton, singer and songwriter, was born in Ariton, Alabama. Thornton began to sing at a very early age and at 14 she joined the Hot Harlem Revue and toured with them for seven years.
Thornton began her recording career in 1951 and the next year recorded "Hound Dog." She was the first to record the song which was number one on the R&B charts for seven weeks and sold almost two million copies. Although the record made her a star, she received little of the profits.
Although her career began to fade in the 1960s, she continued to record, including "Big Mama Thornton with The Muddy Waters Band" (1966), "Ball 'n' Chain" (1968) and her last album "Jail" (1975). Over her career, Thornton wrote more than 20 blues' songs. Thornton died July 25, 1984 the same year that she was inducted into the Blues Hall of Fame.
Thornton's performances were characterized by her deep, powerful voice and strong sense of self. She was given her nickname, "Big Mama," by Frank Schiffman, the manager of Harlem's Apollo Theater, because of her strong voice, size, and personality. Thornton stated that she was louder than any microphone and didn't want a microphone to ever be as loud as she was.
Alice Echols, the author of a biography of Janis Joplin, said that Thornton could sing in a "pretty voice" but did not want to. Thornton said, "My singing comes from my experience…, my own experience. I never had no one teach me nothin'. I never went to school for music or nothin'. I taught myself to sing and to blow harmonica and even to play drums by watchin' other people! I can't read music, but I know what I'm singing! I don't sing like nobody but myself."
Her style was heavily influenced by gospel music, which she grew up listening to at the home of a preacher, though her genre could be described as blues. Thornton was quoted in a 1980 article in the New York Times: "when I was comin' up, listening to Bessie Smith and all, they sung from their heart and soul and expressed themselves. That's why when I do a song by Jimmy Reed or somebody, I have my own way of singing it. Because I don't want to be Jimmy Reed, I want to be me. I like to put myself into whatever I'm doin' so I can feel it".
Scholars such as Maureen Mahon have praised Thornton for subverting traditional roles of African-American women. She added a female voice to a field that was dominated by white males, and her strong personality transgressed stereotypes of what an African-American woman should be. This transgression was an integral part of her performance and stage persona. Elvis Presley and Janis Joplin admired her unique style of singing and incorporated elements of it in their own work. Her vocal sound and style of delivery are key parts of her style and are recognizable in Presley's and Joplin's work.
As her career began to fade in the late 1950s and early 1960s,she left Houston and relocated to the San Francisco Bay area, "playing clubs in San Francisco and L.A. and recording for a succession of labels",notably the Berkeley-based Arhoolie Records.
In 1965, she toured with the American Folk Blues Festival in Europe,where her success was notable "because very few female blues singers at that time had ever enjoyed success across the Atlantic." While in England that year, she recorded her first album for Arhoolie, Big Mama Thornton – In Europe. It featured backing by blues veterans Buddy Guy (guitar), Fred Below (drums), Eddie Boyd (keyboards), Jimmy Lee Robinson(bass), and Walter "Shakey" Horton (harmonica), except for three songs on which Fred McDowell provided acoustic slide guitar.
In 1966, Thornton recorded her second album for Arhoolie, Big Mama Thornton with the Muddy Waters Blues Band – 1966, with Muddy Waters (guitar), Sammy Lawhorn (guitar), James Cotton (harmonica), Otis Spann (piano), Luther Johnson (bass guitar), and Francis Clay (drums).
She performed at the Monterey Jazz Festival in 1966 and 1968. Her last album for Arhoolie, Ball n' Chain, was released in 1968. It was made up of tracks from her two previous albums, plus her composition "Ball and Chain" and the standard "Wade in the Water". A small combo, including her frequent guitarist Edward "Bee" Houston, provided backup for the two songs. Janis Joplin and Big Brother and the Holding Company's performance of "Ball 'n' Chain" at the Monterey Pop Festival in 1967 and the release of the song on their number one album Cheap Thrills renewed interest in Thornton's career.
By 1969, Thornton had signed with Mercury Records, which released her most successful album, Stronger Than Dirt, which reached number 198 in the Billboard Top 200 record chart. Thornton had now signed a contract with Pentagram Records and could finally fulfill one of her biggest dreams.
A blues woman and the daughter of a preacher, Thornton loved the blues and what she called the "good singing" of gospel artists like the Dixie Hummingbirds and Mahalia Jackson. She had always wanted to record a gospel record, and with the album Saved (PE 10005), she achieved that longtime goal. The album includes the gospel classics "Oh, Happy Day," "Down By The Riverside," "Glory, Glory Hallelujah," "He's Got the Whole World in His Hands," "Lord Save Me," "Swing Low, Sweet Chariot," "One More River" and "Go Down Moses".