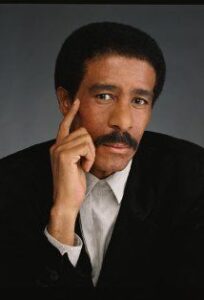 Richard Franklin Lennox Thomas Pryor (December 1, 1940 – December 10, 2005) was an American comedian, actor, and social critic. Pryor was known for uncompromising examinations of racism and topical contemporary issues, which employed colorful vulgarities and profanity, as well as racial epithets. He reached a broad audience with his trenchant observations and storytelling style.
He is widely regarded as one of the most important and influential stand-up comedians of all time: Jerry Seinfeld called Pryor "The Picasso of our profession" and Bob Newhart heralded Pryor as "the seminal comedian of the last 50 years". Dave Chappelle said of Pryor, "You know those, like, evolution charts of man? He was the dude walking upright. Richard was the highest evolution of comedy. This legacy can be attributed, in part, to the unusual degree of intimacy Pryor brought to bear on his comedy. As Bill Cosby reportedly once said, "Richard Pryor drew the line between comedy and tragedy as thin as one could possibly paint it.
Pryor's body of work includes the concert movies and recordings: Richard Pryor: Live & Smokin' (1971), That Nigger's Crazy (1974), …Is It Something I Said?(1975), Bicentennial Nigger (1976), Richard Pryor: Live in Concert (1979), Richard Pryor: Live on the Sunset Strip (1982), and Richard Pryor: Here and Now(1983). As an actor, he starred mainly in comedies such as Silver Streak (1976), but occasionally in dramas, such as Paul Schrader's Blue Collar (1978), or action films, such as Superman III (1983).
He collaborated on many projects with actor Gene Wilder. Another frequent collaborator was actor/comedian/writer Paul Mooney.Pryor won an Emmy Award (1973) and five Grammy Awards (1974, 1975, 1976, 1981, and 1982). In 1974, he also won two American Academy of Humor awards and the Writers Guild of America Award. The first-ever Kennedy Center Mark Twain Prize for American Humor was presented to him in 1998. He was listed at Number 1 on Comedy Central's list of all-time greatest stand-up comedians. In 2017, Rolling Stone magazine ranked him first on its list of the 50 best stand-up comics of all time.
Born on December 1, 1940 in Peoria, Illinois, Richard Franklin Lennox Thomas Pryor grew up in his grandmother's brothel, where his mother, Gertrude L. (née Thomas), practiced prostitution. His father, LeRoy "Buck Carter" Pryor (June 7, 1915 – September 27, 1968), was a former boxer and hustler. After his alcoholic mother abandoned him when he was 10, Pryor was raised primarily by his grandmother Marie Carter, a tall, violent woman who would beat him for any of his eccentricities.
Pryor was one of four children raised in his grandmother's brothel and was sexually abused at age seven.[30] He was expelled from school at the age of 14. His first professional performance was playing drums at a night club. Pryor served in the U.S. Army from 1958 to 1960, but spent virtually the entire stint in an army prison.
According to a 1999 profile about Pryor in The New Yorker, Pryor was incarcerated for an incident that occurred while stationed in Germany. Angered that a white soldier was overly amused at the racially charged sections of Douglas Sirk's movie Imitation of Life (1959), Pryor and some other black soldiers beat and stabbed him, though not fatally.