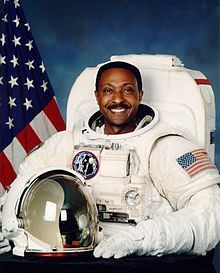 Winston Eliott Scott (born August 6, 1950) is a retired United States Navy Captain and former NASA astronaut. He served as a mission specialist on STS-72 in 1996 and STS-87 in 1997 logged a total of 24 days, 14 hours and 34 minutes in space, including three spacewalks totaling 19 hours and 26 minutes.
Scott attended George Carver Senior High School until integration occurred in Dade County Schools, and he entered Coral Gables High School. He was member of the Gables High band, and is remembered as one of the school's best trumpet players.
He received a bachelor of arts degree in music from Florida State University in 1972 and a master of science degree in aeronautical engineering from the U.S. Naval Postgraduate School in 1980.
Scott entered Naval Aviation Officer Candidate School after graduating from Florida State University in December 1972. He completed flight training in fixed-wing and rotary-wing aircraft and was designated a Naval Aviator in August 1974.
He then served a four-year tour of duty with Helicopter Anti-Submarine Squadron Light 33 (HSL-33) at the Naval Air Station North Island, California, flying the SH-2F Light Airborne Multi-Purpose System (LAMPS) helicopter.
In 1978 Scott was selected to attend the Naval Postgraduate School at Monterey, California, where he earned his master of science degree in aeronautical engineering with avionics.
After completing jet training in the TA-4J Skyhawk, Scott served a tour of duty with Fighter Squadron 84 (VF-84) at NAS Oceana, Virginia, flying the F-14 Tomcat.
In June 1986 he was designated an Aerospace Engineering Duty Officer (AEDO). He served as a production test pilot at the Naval Aviation Depot, NAS Jacksonville, Florida, flying the F/A-18 Hornet and the A-7 Corsair aircraft.
He was also assigned as Director of the Product Support (engineering) Department. He was next assigned as the Deputy Director of the Tactical Aircraft Systems Department at the Naval Air Development Center at Warminster, Pennsylvania.
As a research and development project pilot, he flew the F-14, F/A-18 and A-7 Corsair II aircraft.
Scott has accumulated more than 5,000 hours of flight time in 20 different military and civilian aircraft, and more than 200 shipboard landings.