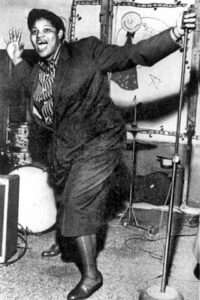 Willie Mae "Big Mama" Thornton (December 11, 1926 – July 25, 1984) was an American rhythm-and-blues singer and songwriter. She was the first to record Leiber and Stoller's "Hound Dog", in 1952, which became her biggest hit, staying seven weeks at number one on the Billboard R&B chart in 1953 and selling almost two million copies. Thornton's other recordings included the original version of "Ball 'n' Chain", which she wrote.
In the 1970s, years of heavy drinking began to damage Thornton's health. She was in a serious auto accident but recovered to perform at the 1973 Newport Jazz Festival with Muddy Waters, B.B. King, and Eddie "Cleanhead" Vinson (a recording of this performance, The Blues—A Real Summit Meeting, was released by Buddha Records).
Thornton's last albums were Jail and Sassy Mama for Vanguard Records in 1975. Other songs from the recording session were released in 2000 on Big Mama Swings. Jail captured her performances during mid-1970s concerts at two prisons in the northwestern United States.
She was backed by a blues ensemble that featured sustained jams by George "Harmonica" Smith and included the guitarists Doug Macleod, Bee Houston and Steve Wachsman; the drummer Todd Nelson; the saxophonist Bill Potter; the bassist Bruce Sieverson; and the pianist J. D. Nicholson. She toured extensively through the United States and Canada, played at the Juneteenth Blues Fest in Houston and shared the bill with John Lee Hooker.
She performed at the San Francisco Blues Festival in 1979 and the Newport Jazz Festival in 1980. In the early 1970s, Thornton's sexual proclivities became a question among blues fans. Big Mama also performed in the "Blues Is a Woman" concert that year, alongside classic blues legend Sippie Wallace, sporting a man's three-piece suit, straw hat, and gold watch.
She sat at center stage and played pieces she wanted to play, which were not on the program. Thornton took part in the Tribal Stomp at Monterey Fairgrounds, the Third Annual Sacramento Blues Festival, and the Los Angeles Bicentennial Blues with BB King and Muddy Waters.
She was a guest on an ABC-TV special hosted by actor Hal Holbrook and was joined by Aretha Franklin and toured through the club scene. She was also part of the award-winning PBS television special Three Generations of the blues with Sippie Wallace and Jeannie Cheatham.
Thornton was found dead at age 57 by medical personnel in a Los Angeles boarding house[22] on July 25, 1984. She died of heart and liver disorders due to her longstanding alcohol abuse. She had lost 255 pounds (116 kg) in a short time as a result of illness, her weight dropping from 350 to 95 pounds