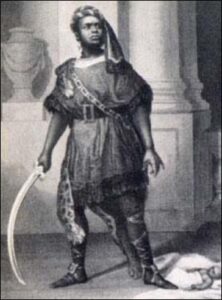 Ira Frederick Aldridge, stage actor, was born in New York City. Aldridge was educated at the New York African Free School where he developed an interest in the theater.
Although he began his acting career in the United States in the early 1820s, in 1826 Aldridge immigrated to England because of the persistent disparagement and harassment that black actors had to endure in the U.S.
In England and on tours throughout Europe, Aldridge established himself in many major roles, including several written as white characters. Aldridge never returned to the U.S. and died August 7, 1867 in Poland where his grave is tended by the Society of Polish Artists of Film and Theatre.
He received awards from many European heads of state, including the Prussian Gold Medal for Arts and Sciences, the Golden Cross of Leopold, and the Maltese Cross. Also, Aldridge is the only actor of African descent among the 33 actors of the English stage with bronze plaques at the Shakespeare Memorial Theatre at Stratford-upon-Avon.
Aldridge's biography, "Ira Aldridge: The Negro Tragedian," was published in 1968. "Ira Aldridge: The African Roscius," a collection of essays that examine his extraordinary achievements against all odds, was published in 2007.